The ole Artworks is not known as a comedy venue — indeed this storefront space, though an underground standby, is not known to the vast majority of Pittsburghers as a venue of any sort. That was a subplot of last Friday's show, which included a nice set by the nationally known sociopolitical comic as well as an unnannounced guest spot by Wyatt Cenac.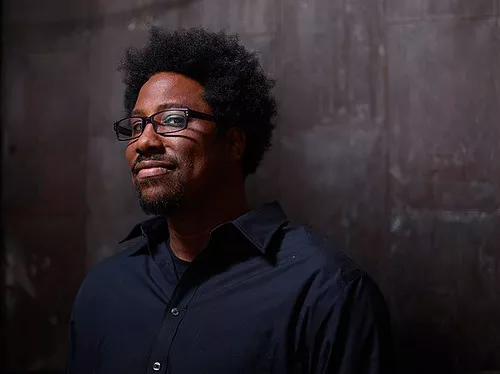 Photo courtesy of Matthias Clamer
W. Kamau Bell
The Artworks is the longest-running arts venue on its stretch of Penn Avenue; for years after its launch in the early '90s, it was the only active gallery or performance space beween Liberty Avenue and East Liberty, hosting noteworthy art shows and edgy local and touring musical acts.
Now, ironically, while the rest of Penn continues to blossom, the Artworks is preparing to close its doors in early December. These days it's got some cobwebs, it's got books and records piled up front garage-sale style, and right in the middle of the space there's a big, sprawling stack of something (furniture?) shrouded in tarps.
That all was fodder for Bell, late of the FX/FXX show Totally Biased with Kamau Bell and critically acclaimed for his sharp humor about racism and gender politics. He ad-libbed "so it's come to this" jokes about the venue to complement bits about things like being mistaken for Questlove — "Apparently there's only allowed to be one nappy-haired black man in America at a time" — and being father to two mixed-race daughters.
Here's CP's preview Q&A with Bell.
A nice surprise, after a solid set by local comic Jordan Weeks, was Cenac's appearance. Cenac, in town for a late-night show across town at Club Café, stopped in to warm up for his buddy Bell. Highlights of Cenac's set included a bit on American attitudes toward soccer.
Americans hate soccer so much, he said, that they gave it a "slave name."
"Your name is soccer."
"But my name is football."
Makes whipcrack sound. "Your name is soccer!"
Here's our preview Q&A with Cenac.
The evening also included a clever set by Bell's touring buddy, Zach Sherwin. Both of them stuck around after the show, when some of the patrons who had clearly never been to the Artworks before (which I'd guess included at least half of the crowd of about 70) kept commiserating with the two comics about having to play such an inelegant joint. Sherwin seemed to appreciate it, though, when I shared a little of the Artworks' role in Pittsburgh culture.