Head toward the light in the distance tomorrow, and you might end up at a day of free admission to the Children's Museum of Pittsburgh.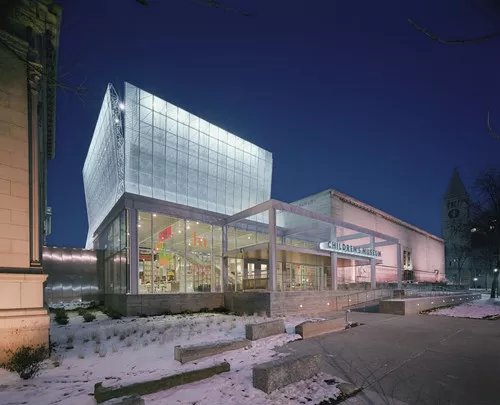 Photo courtesy of Albert Vecerka/Esto
The Lantern Building
The Children's Museum is celebrating the tenth anniversary of its expansion, and the development of its Lantern Building, with a "The Light Within Us All Free Day."
The Lantern Building, an illuminated structure of light and glass that connects the Old Post Office building and the neighboring Buhl Planetarium, was part of a 2004 expansion.
In addition to free admission, the celebration will have lantern-making activities, a family-resource fair, and youth performances to "provide opportunities and experiences for families that spotlight the light within us all," says Bill Schlageter, the Children's Museum's Director of Marketing.
Joe Jarski will begin the day with a performance on the guitar, banjo and harmonica at 11 a.m. Following him is violinist Andrew Johnson from the Pittsburgh Youth Symphony Orchestra; the Dilworth Youth Drumming Group; 1Hood Youth Performers; and the Hill Dance Academy Theatre.
The event takes place from 10 a.m.-5 p.m. The museum is located at 10 Children's Way, Allegheny Square in North Side.