Andre McClain is the ringmaster for The Greatest Show on Earth, a lesson in the importance of race representation and, overall, one heck of a company man.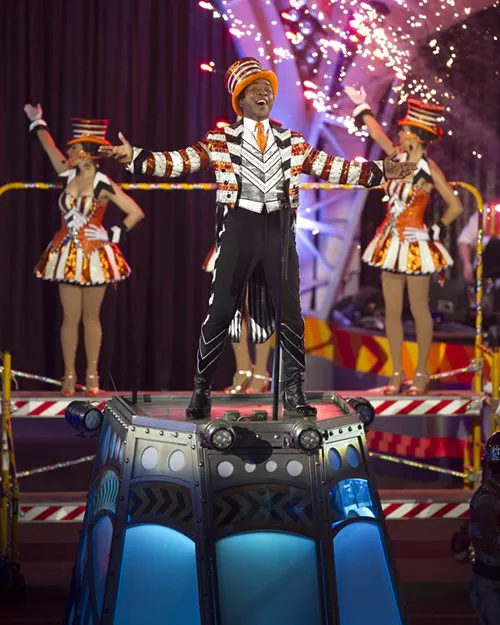 His first-ever visit to a circus was Ringling Bros. and Barnum & Bailey's 132th tour, in 2002, when he was researching the use of stilts for his one-man rodeo act. After he got backstage, chatting with some clowns, his animal-training expertise reached the rights ears, and McClain was offered and accepted a job working with Ringling's exotic-animal staff.
"I started from the bottom, and I really I didn't expect to be get far," McClain said in a recent phone interview. "To me, it's an honor, and its still an honor. There have been more presidents than ringmasters in the past hundred years."
A baritone-bass, McClain sings from atop his high horse during the show. He visits the CONSOL Energy Center next week with the 143rd Ringling Bros. and Barnum & Bailey Built To Amaze! tour, which is a construction-themed show with a community-minded message.
"It's a battle of the sexes," McClain says. "We prove at the end of the show that it really takes everyone to accomplish something."
Before life under the big top, McClain grew up on a ranch in Kansas City, and he acquired his equestrian skills from his family's long African-American cowboy heritage. He got in the saddle for the first time at age 5, and his father founded America's first all-black touring rodeo, the Bill Pickett Rodeo, in 1984.
Once he left the rodeo for the circus, McClain began to move up Ringling's ranks, finding an idol who looked like him along the way.
"The ringmaster idea wasn't in my head until I first got that first [exotic-animal] gig, and I saw Johnathan Lee Iverson," McClain says.
Iverson was Ringling Brother's first African-American ringmaster, and McClain says his mindset changed once he saw someone who didn't look like all the previous ringmasters.
"I wanted to be that guy," McClain says.
After a different job offer, McClain forgot about that goal for a bit, and settled into life as the host of the circus's pre-show.
"I loved it, didn't want to give up," McClain says. "Until two years ago when they came with the contract. They handed my folder, and they said they want [me] to be the ringmaster."

At first, McClain thought the joke was on him.
"I was like, 'Get out of here,' and I just started laughing," McClain says.
The punchline never came, and McClain realized he had gotten what he wanted all those years ago.
"I was so excited. I didn't even read all of the contract! I just signed the paper," McClain says.
McClain sits at the top seat today with his wife, Daniele, a Ringlette (singer and dancer), beside him, and hopes to inspire audiences just like Iverson inspired him.
"I like to show to all kids and adults that no matter what you look like, how you feel, you too can make your dreams come true," McClain says. "No matter how high you want to be in life, you can do it, no matter what you want to do."
The circus starts at 7 p.m. Wed. Nov 5, and performances continue through Nov. 9.
CONSOL is located at 1001 Fifth Ave., in Uptown. Tickets are $10-115 and are available at 412-804-7904 or www.ringling.com