Want to vacation next to the home from The Exorcist? Dream about a honeymoon trip toThe Blair Witch Project's Coffin Rock? Fancy launching a Bigfoot search?
Well, Somerset-based writer Tony Urban did you a solid.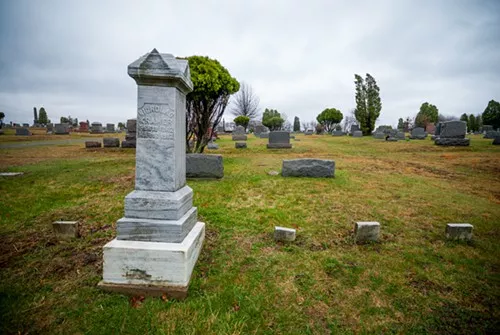 Tony Urban
Tombstone from the opening scene of Night of the Living Dead featured in Urban's book.
Urban, a professional photographer and first-time author, set out five years ago to pinpoint and shoot the locations of more than 40 horror-film sets, alien-abduction sites and other areas of the paranormal sort. The resulting compilation released by Schiffer Publishing, Travelogue of Horror, is full of addresses most people visit only in their nightmares. But with Urban's droll anecdotes and photography tips for each location, it's a surprisingly uplifting read.
"Horror fans are kind of a brotherhood almost, so I wanted to save everyone else the trouble," Urban says. "It was my way of helping people find the locations without have to spend months on the research."
Urban's addiction to the macabre has taken him more than 35,000 miles through 15 states. He opens the book with his visits to locations from the Friday the 13th series. Then he travels to films locations shot closer to or within Pittsburgh, like My Bloody Valentine, Night of the Living Dead and The Silence of the Lambs.
"If I would have had to drive so far away for the first [few] locations, I probably wouldn't have wanted to do it," Urban says. "But being able to drive 45 minutes into Pittsburgh and see half a dozen different movie sets? It's kind of surreal."
Tony Urban
Carnegie Mellon University building used in Creepshow.
If you've been to the Squirrel Hill Tunnel, Carnegie Mellon University's campus or the Soldiers & Sailors museum, you've already visited some of the book's locations.
Urban credits the Night of the Living Dead director George Romero for bringing the horror-movie scene to Pittsburgh. That, and Pennsylvania's more recent 25 percent tax credit for films that spend 60 percent or more of their budget in the state.
"[Other filmmakers] saw how receptive the city was to movies. It's not like Hollywood where people view it as disrupting their day," Urban says.
Likewise, Urban had to choose his battles regarding "No Trespassing" areas. For The Evil Dead location, he goes in. For Amityville Horror's lagoon scene, he stays out. But, overall, he experienced only one run-in with the law. That was when he visited an abandoned mental hospital in New Jersey. But better a cop than a ghoul, you'd imagine.
Despite his attempts, no ghosts, serial killers or zombies crossed his path during the writing process. Yet, honestly, Urban says he's not that surprised.

"I would love to have something paranormal or macabre or superstitious be proven true, but I can honestly say I've never had any experience that led me to say, 'Yes this is true, or no it's not," Urban says.
Urban might have escaped with only photographs and cuts from a barbed-wire incident. But if you buy the book and take the challenge, you might have more luck — or maybe it's less.