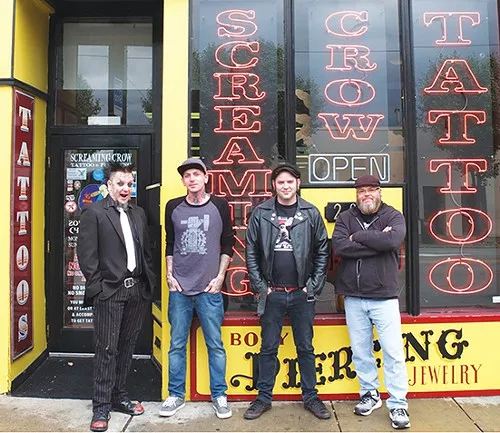 Screaming Crow Tattoo crew: from left, Rev Lower, Steev Barncord, Aaron Harding, Eric Corbin
Photo courtesy of Rich Schiavoni/Valley Mirror
It's easy to forget that some of our favorite local musicians spend their "other lives" in different industries during the day time. Todd Porter, front man of The Cheats, is currently co-owner of Screaming Crow Tattoo and Piercing in Homestead with long-time friend Eric Corbin. Corbin currently maintains his own record label called Screaming Crow Records, which represents The Cheats. Their relationship in the shop is similar to their interaction in the music industry: Corbin runs the business side of things while Porter works as an artist.
The two quickly became partners after the space for the shop was made available. Beforehand, they were both working at Sinners and Saints Tattoo in Shady Side, also owned by Porter. The duo named the new space Screaming Crow Tattoo after Corbin's label, and it is currently host to a variety of tattoo artists, including The Cheats' drummer Aaron Harding, Steev Barncord, and Rev Lower (who is also a musician in a shock-rock band called Only Flesh). Their establishments are a prime example of musicians leading "other" lives that really aren't so foreign to the industry: It's all connected. You can check out the shop and chat with the musicians/tattoo artists at their four year anniversary and Customer Appreciation Day on Saturday, October 18th. Visitors will find free food, tattoo and piercing specials and performances by Rev Lower throughout the day.