Last Friday and Saturday, this original dance work from Moroccan dancer and choreographer Hind Benali's troupe came to town courtesy of the Kelly-Strayhorn Theater.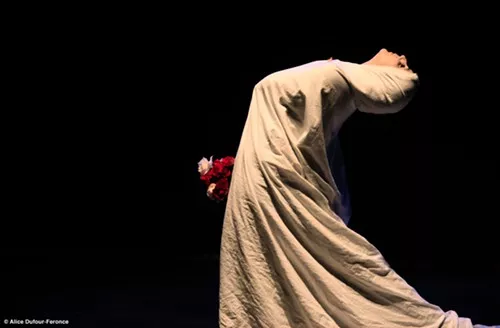 Photo courtesy of Alice Dufour-Feronce
Hind Benali
Saturday's performance filled the Alloy Studios with live and recorded sounds by musician and composer Mochine Imrharn. The soundscape backed Benali herself and Moroccan dancer Soufiane Karim in a lyrical, emotionally charged performance that explored identity on many levels, from gender to religion and culture (perhaps especially Western and non-Western).
Though props were minimal, costuming played a big role. Benali began the show veiled, and a giant white skirt she wore later became a set piece as well as several very different articles of clothing. Karim wore a traditional looking outfit — ironic, given his background in hip-hop. His performance drew heavily on street-style moves, in contrast to Benali's blend of traditional dance and modern-dance movements.
Benali moves beautifully, but she's not afraid of extremes: contorting her limbs, for instance, into something that suggested an insect molting (or perhaps emerging from a cocoon). The show also made evocative use of projections, both on the back wall and on the dancer's bodies.
The hour-long show was part of the Kelly-Strayhorn's KSTmoves series. According to the show's program, Fleur d'Orange's month-long U.S. tour was arranged by the cultural-diplomacy initiative Center Stage, run by the U.S. Department of State.
The show furthered the Kelly-Strayhorn's record of hosting cutting-edge dance not only from Pittsburgh and elsewhere in the U.S., but from around the world. After the hour-long performance, Kelly-Strayhorn executive director Janera Solomon spoke briefly, noting that in the past six years, the theater (which programs Alloy Studios as well as its home stage) had hosted 18 companies from 17 countries.
Still, this week the theater sticks to talent from nearby, showcasing local performer and choreographer Anthony Williams. See a preview of the show in this week's CP, which goes live online at midnight tonight and is on the street tomorrow.