Post Written by Mike Schneider
You have to love a poem that recalls a Squirrel Hill domestic scene from 1945, a first-generation immigrant father "doing the dance / of old Ukraine, the sound of his skin half drum, / half fart."
How many poems say "fart"? Small hooray for that alone. But the poem goes on to register the pain of mid-20th-century history (capital "H") — economic depression in America, the Holocaust in Europe — in an amazing swoop of language:
in Pittsburgh, beautiful filthy Pittsburgh, home
of the evil Mellons, 5,000 miles away
from the other dancing — in Poland and Germany —
oh God of mercy, oh wild God.


Gerald Stern at the Jazz Poetry reading
Some readers will recognize this as the close of
Gerald Stern
's poem "The Dancing." A National Book Award winner (1998), along with many other honors for more than 20 published collections, Stern has been (and remains, at almost 90) one of the vital forces of American poetry over the past 40 years. His return to the city that launched him highlighted
City of Asylum/Pittsburgh
's 10th Annual Jazz Poetry Concert.
The concert was held this year for the first time under a big tent in West Park. COAP's ambitious move of this uniquely Pittsburgh, multidisciplinary, multicultural arts event to a larger space, in green surroundings with insect song on a summer night, came off well. This past Saturday's SRO crowd of about 775 (the event's highest ever) drew energy from the powerful, 17-piece Oliver Lake Big Band.
Taking a cue from the big tent setting, Lake's brassy — in all senses of the word — musicians, including not 76 but no less than four trombones, marched in like a circus parade, horns blaring cacophonously around a single pitch from Lake's saxophone, like elephant mating calls, a joyous, chaotic party-starter. Whoever did the staging deserves credit.
This virtuosic band will set you back $45 a ticket next weekend at New York City fabled Iridium, but on Saturday was free to Pittsburghers.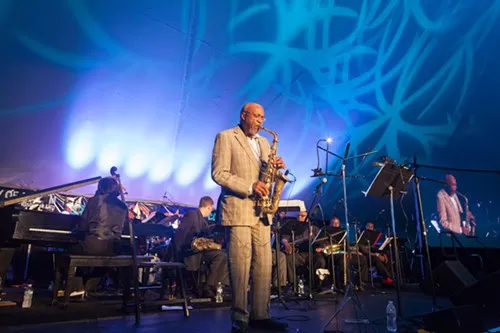 Oliver Lake leads the Oliver Lake Big Band
On stage, the group blasted from the gate to the finish, with multi-layered, jazzy dissonance interladen with ear-wakening tonal clusters. From these somewhat avant-garde effects, listener's jazz, the band often showed remarkable light-footed-ness, shifting seamlessly to danceable big-band swing, with notable piano from Yoichi Uzeki on "The Whole World."
Billed as "Global English," the jazz-poetry collaborations preceded Stern with: Ali Cobby Eckermann, an aboriginal Australian woman; Kei Miller, from Jamaica; and TJ Dema, from Botswana. All delivered their words, backed discreetly and effectively by Lake and the band, with strong performance skills.
More than the others, Dema, who's studied at the University of Iowa Writing Program, challenged her audience to think with lines such as "Poems, poems are bullshit . . . unless they reach someone." Though the statement is simplistic, with her accomplished stage presence, the rhetorical effect was smashing.
Then came Stern, in a flashy white-straw hat, leaning on his bright red metal cane, silently making his way step-by-step to a seat at the podium, commanding the audience without a word. He was born in the Hill District, raised as a working-class kid in Squirrel Hill and was a walk-on running back for the University of Pittsburgh football team who sparred with Billy Conn. Stern is — I could be wrong, but I think this brooks not much argument — the greatest poet Pittsburgh has produced.

All six of the relatively short poems he read brought forth spontaneous, enthusiastic applause. If you want to read them, there they are:
"Frogs"
"The Bite"
"Counting"
"Cow Worship"
"Hemingway's House"
"The Dancing"
Following Stern, Lake and local actress Tami Dixon debuted "Stoopin' is a Verb," from a work in progress that combines original music with dialogue taken from interviews of North Side residents. A short closing set from Lake's band included Robert Sabin's thrumming extended bass solo, supported exquisitely by a chorus of North Side crickets in the West Park trees.