Fans of behind-the-scenes filmmaking drama should enjoy The Chair, a series about the making of two dueling films based on the same source material.
That's an assessment based on a preview screening of the first of ten episodes, "The Experiment." It airs at 10 p.m. tomorrow on STARZ.
Photo courtesy of STARZ
Anna Martemucci
The Chair
is a unique undertaking conceived by Hollywood producer Chris Moore (
Good Will Hunting
,
American Pie
and the Project Greenlight series): Two aspiring filmmakers get the same script and same budget to shoot a film at the same time in the same city. Meanwhile, TV-documentary cameras follow their every move. And the maker of the audience-favorite film (as determined by online voting) gets $250,000.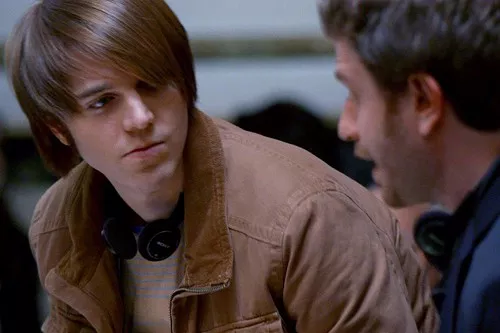 Photo courtesy of STARZ
Shane Dawson
The two filmmakers were clearly chosen for diversity, or as a study in contrasts, take your pick. Shane Dawson, a YouTube comedy star known for his broad humor, is a new-media guy. Anna Martemucci is a writer from a stage background, although she also has plenty of film experience, including as an actor.
"The Experiment" explains the concept of The Chair and follows Dawson and Martemucci as they come to Pittsburgh and begin preproduction. While it includes illuminating interviews with applicants for the two directors of photography, much of this episode is about the script: Both Dawson and Martemucci have, predictably, wildly divergent ideas of how to interpret the coming-of-age dramedy by Dan Schoffer that's handed to them.
The Chair, directed in slick docu-style by Anthony B. Sacco, was shot in Pittsburgh because of Moore's connections here with Point Park University (which is billed as a series producer) and the Steeltown Entertainment Project.
Even though most of the series was shot in winter, Pittsburgh comes off looking great, with its sunsets, skylines and inclines, and plenty of modern architecture. The town is described as "gorgeous" and "a cinematic city." (We're blushing!) And, as Moore (who's seen in a Point Park hoodie) says, "We actually raised money in Pittsburgh."
Others interviewed include Zachary Quinto, whose production outfit Before the Door also backed The Chair, and Josh Shader, producer of both Dawnson's film, titled Not Cool, and Martemucci's, Hollidaysburg.
For what it's worth, in episode one, Martemucci seems extremely organized but anxious. Dawson comes off as very self-conscious about what the online audience he's built (10 million followers) will want in a movie.
Perhaps most interesting from an insider-baseball perspective is a debate over what constitutes a writing credit: Dawson says he revised Schoffer's script so much he should get a co-writing credit, and Martemucci too rewrote almost all Schoffer's dialogue (though, as required by Chair rules, the basic plot remained). But Writers Guild rules apply, says Shader, meaning Schoffer keeps the credit.
And the alternate paths the two films will take is denoted, as Dawson quips, "Let's insert the poop jokes" (and Quinto tries to get Dawson to tone down his characters hating on Pittsburgh). He wants to make something like SuperBad, while Martemucci is looking for more of a considered drama.
Later episodes, of course, will delve into the actual shooting. CP managed to visit the set one cold day this past March, and episodes documenting that stuff should prove fun, too.
The Chair continues on STARZ at 10 p.m. Saturdays into November. Both finished films will also eventually air on STARZ.