Together with cities throughout the country, last night Pittsburgh observed a moment of silence for victims of police brutality. The National Moment of Silence was spurred by the Aug. 9 shooting of Michael Brown, a black teenager killed by police in Ferguson, Missouri, a suburb of St. Louis.
"It's such an injustice," said Celeste Scott. "I'm a black mom of a black son, and I'm always worried about him and the police."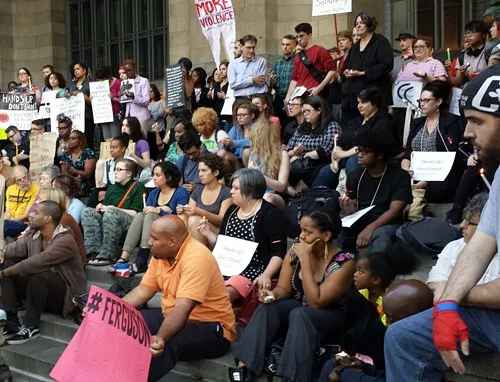 Since Brown's death, riots have erupted throughout his hometown. Events were planned in more than 90 cities to show solidarity for the people of Ferguson and to speak out against police brutality.
"Outrage brought me out this evening," said Benjamin Rackley, from Mars, Pa. "I'm outraged because my life and the lives of people who look like me are not valued. If walking down the street is somehow a crime punishable by death, I have a problem with that."
More than 100 people of different races and ages came to the local event at the City County Building Downtown. After the moment of silence a few of those in attendance shared their personal experiences with police brutality.
Nicky Jo Dawson from Carnegie said she witnessed police brutality first hand last month. She video-taped a young man who was approached by police and "slammed against a wall." She said she later found out the police told the man they approached him because he was littering.
"I'm fed up with these cops thinking because they have a blue suit and a badge they can harass these black men," Dawson said. "Littering is now a reason for you to get harassed on the street."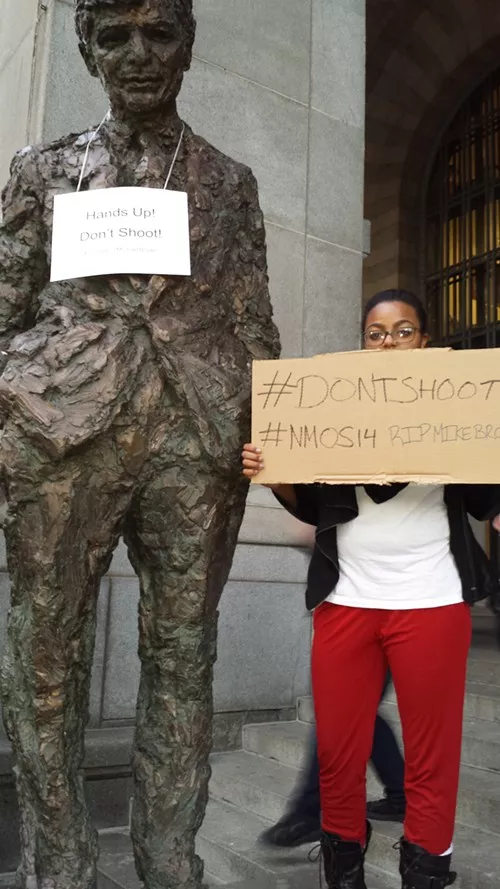 Many at the rally claimed police brutality is on the rise throughout the country. Pittsburgh has seen it's own share of high profile cases including Jordan Miles, a black teenager who filed a lawsuit against three Pittsburgh police officers; and Leon Ford, another black teenager who was paralyzed as a result of an altercation with Pittsburgh police following a traffic stop.
"I'm here today because like many people I'm fed up with the needless deaths," said Julia Johnson, who helped organize the local event. "It's happening in Pittsburgh. It's happening in Ferguson. Police brutality is getting worse and worse and it's not just isolated to the Black community."
Moving forward, Johnson says people should demand cops wear cameras at all times to record their actions. She plans to hold more events in the future to put pressure on local law makers.
"We must prevent these senseless deaths," Johnson said. "Cops cannot and will not be allowed to get away with murder."
The event was put together by a group of people with no specific affiliation. Lawrenceville resident Amy Loveridge secured a permit for the Pittsburgh event and created a Facebook page to spread the word.
"I invited the people I know and other people invited people they know and right before we started, over 300 people had RSVPed," Loveridge said. "It's important for people in other cities to stand up and say, that's not how we want our police to be."