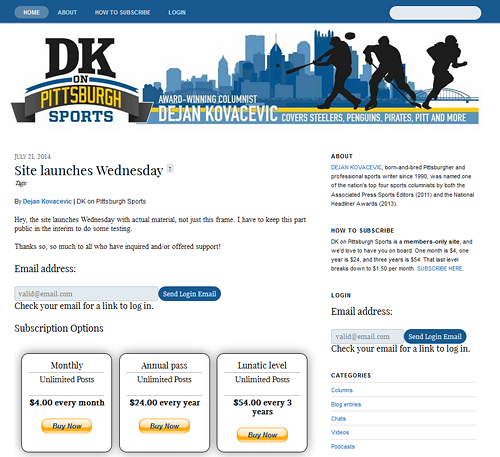 As a beat writer and later a columnist, Dejan Kovacevic has been a part of the Pittsburgh sports scene for more than 25 years. That will still be true tomorrow morning but don't look for his work on the pages of the Pittsburgh Tribune Review as you have since 2011.
On Wednesday, Kovacevic will launch his own subscription-based website — DK on Pittsburgh Sports — offering subscribers his insights and coverage of the city's local sports teams. Kovacevic tells City Paper that the new platform has only been in the works for the past couple of weeks while he was on vacation from his job as a Trib sports columnist.
He returned to work Monday, let his bosses know of his plans and immediately parted company with the paper. He says the split was amicable — "I have nothing but good things to say about the Trib or [editor] Frank Craig.
Kovacevic spent his vacation thinking about the future of journalism and his relationship with his readers. Those relationships, he says, is why he decided to take this plunge.
"Without sounding over melodramatic about it, I have developed this readership that I believe in," Kovacevic says. "I've been able to connect with people over through the years through writing at first at the Post-Gazette and then at the Trib.
"People trust you to research and write opinions that they feel are honest and transparent, even if that opinion differs from their own. Also it helps that I was born and raised in Pittsburgh, I grew up with the sports team that I now cover. Maybe that carries more weight than it should, but that means something to people here."
At 47, Kovacevic says he is young enough to see where the next generation of media is heading but old enough to know what goes into providing quality, responsible journalism. His goal, he says, "is to try and strike a balance between the two."
"The plan is for a venture built not only in an online community but also on social media, which is my only megaphone," explains Kovacevic who boasts more than 51,000 Twitter followers and whose blog the past year at the Trib received 3.3 million page views and more than 250,000 comments. "So, the question became do I have to be associated with a brand name or can my own reputation be the brand.
"I looked for the precedents out there for what I'm attempting, and quite simply there are none."
Since his announcement Tuesday night, Kovacevic says the response has been positive. He's already received several subscriptions and he's also heard from "journalists across North America" who were very curious about is new endeavor.
"These were some really big-time guys," he says. "I didn't see that coming and it's encouraging.
"There's no question there are a lot of eyes on what I'm doing both here and outside Pittsburgh to see if this works. I'm the lab rat."
Kovacevic says he's still working on what all the site offerings will be. It will start out with two to three columns per week along with other daily content meant to spawn discussion among the site's readers. "The goal is to create a community," he says. There will also be game discussion threads and pieces written in a less-than-traditional manner. For example coming up later this week he plans to write a piece about a Penguins prospect and part way through the piece, he'll insert video from the interview so the reader can see how the player responds and handles the questions, and then pick the writing back up again. "The great thing is when you're online, there are so many ways to present things."
Kovacevic plans to cover as much for the new site as he ever did as a reporter for the Post-Gazette since 1990 (he began in 1985 as a freelance writer) and later the Tribune-Review. He is fully credentialed through all the major sports teams and he plans on traveling to cover the teams, just as he has in the past. The only difference is he'll be working for himself instead of a newspaper.
"I've been asked a few times how I could leave the security of my job to do this. I don't know, did I?" he asks. "None of us know where newspapers are heading."
The goal of the site is to be completely subscription supported. However, Kovacevic says he will be announcing a major corporate sponsor in the next few days that will help him through the start-up process. The cost of Kovacevic's subscriptions is $4 a month, $24 a year and $54 dollars for three years. A price he thinks is fair for the content he'll be providing.
"If you get the three-year plan it's only $1.50 a month," he says. "In newspaper terms, that's only a paper-and-a-half."