TBS sitcom Sullivan & Son is in its third season, and so is the Sullivan & Son Comedy Tour. Pittsburgh-area native Steve Byrne stars in the series, set in the South Side neighborhood bar his character runs. But on the national tour, Byrne shares the marquee with on-screen co-stars Owen Benjamin, Ahmed Ahmed and Roy Wood Jr.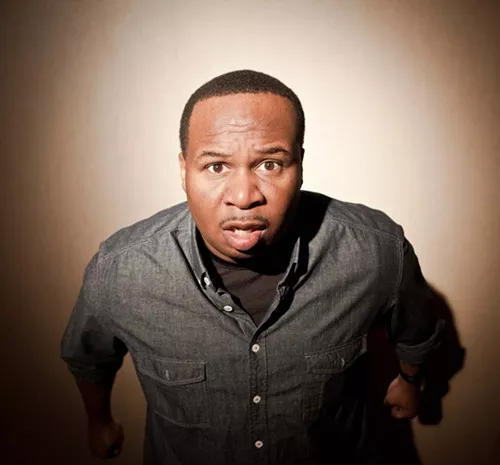 Wood
recently spoke to
CP
from his home, in Los Angeles, about getting to know Pittsburgh over the years and about blowback from his famous prank phone calls, some of them collected on CDs like
I'll Slap You To Sleep
.
This interview is an expanded version of an item that ran in this week's print edition.
What was your image of Pittsburgh before you came here with the earlier tours?
The only thing I thought [about] Pittsburgh — I used to love the Dolphins so much growing. I thought, 'If I ever get to Pittsburgh, I wanna see Dan Marino's house, because that'll make me a better athlete!'"
You grew up in Birmingham, Alabama. How is it different there?
I don't think we're as melted together [as a country] as we want to believe. Case in point, state of Alabama, in Birmingham, we've never had an NFL team. So we still love college football on a level that I don't think anyone else in the country can relate to. … We've had spring practices sold out. … There's nothing funnier than watching two fans of Alabama and Auburn argue over a school that neither one of them had the grades to get into. … In the north, I just don't think people are fighting and murdereing. I mean, family members get shot over SEC football. There's guys in jail for poisoning trees on Auburn's campus over SEC football. That isn't something you hear much about in the Big East.
What was it like finally coming here after shooting a show set in Pittsburgh?
The only thing that was weird was my first time drinking in a bar in Pittsburgh, because we had been on the set of Sullivan & Son for a year. You gotta remember, that was the first time I'd been exposed to any kind of Pittsburgh culture. So when I went to bars in Pittsburgh, I was automatically expecting them to all be like Sullivan & Son. I was like, "Oh, no, wait a minute, there's different types of bars. Don't be an idiot."
I just wish there was an episode where we had a Primanti Brothers open up next door. And then that way we'd have to have authentic Primanti Brothers on set all day. That would be awesome.
There are a few Primanti's franchises out of state, I hear.
There's a Pittsburgh-style-sandwich food-truck running around LA. It's pretty good, and it's probably the closest thing we get to Primanti's this side of the Mississippi. It'll have to do until I get back to pgh and get the real deal.
Structurally it's the same sandwich, but it's defintiely not Primanti's. It's probably some dude named "Framanti."
Funny you say "structurally." It is kind of architectural, for a sandwich.
Every Primanti Brothers sandwich should come with a dude rubbing your belly at the end of it, telling you, "Life is gonna be OK. I know you just stuffed your face."
Your prank calls — are you surprised more people don't get really mad at you when they learn it's a prank?
I'd say in my career — and my career in radio spans 13 years now — I'd say out of 800-plus calls that I've ever done, only two people have ever been legitimately upset. There's probably two people in this country that if you brought my name up right now, they'd probably go get a gun permit and go look for me.
But for the most part, people are good sports about it. Plus, it helps that their friends are the ones that put me up to it. It's not like I'm calling strangers.
One that went south, I called a father and I told him that his son had my son selling marijuana for him. Both kids were in the first grade. I threatened to fight the father, he threatened to fight me. He hung up in my face and drove to the school, thinking that I was gonna be at the school. Thankfully he never got out of the car. I told him who I was and we kinda laughed it off. … Fast-forward four months later. I'm performing in Cleveland. After the show, a man just comes up to me — he doesn't shake my hand, he just leans in — he goes, "I just want to show you that if I wanted to touch you, I could touch you. Have a good evening." ... That guy, not a big fan of prank phone calls.
What's the Sullivan & Son standup show like?
In a lot of ways, it's your standard-issue four-comic comedy show. … We usually change it up near the end of the show and do a few things different. We definitely come out and we're very much interacting with the crowd for the entire back end of the show. That's' what I'm most excited about.
The Sullivan & Son Comedy Tour starts at 8 p.m. Thu., July 17. It's at the Rex Theater, 1602 E. Carson St., on the South Side. Tickets are $18-20 (18 and over) and are available here.