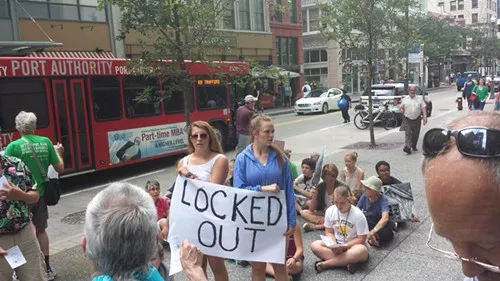 More than 200 protesters led by the Philadelphia-based Earth Quaker Action Team converged on downtown PNC Bank branches this afternoon before rallying at the Bank's headquarters on Fifth Avenue to protest the lender's continued financing of mining companies that engage in Mountaintop Removal coal mining (MTR).
A lot of the group came in on buses from California University of Pennsylvania where members of the Quaker faith are gathering for the annual Friends General Conference. The group has been protesting PNC for years to urge them to divest in MTR.
MTR is a form of strip-mining practiced in West Virginia and elsewhere. The process lops off the tops of mountains to get the coal beneath; dislodged rock is frequently dumped into nearby valleys. Environmentalists say the process harms wildlife, drinking water and community health.
At PNC's Fifth Avenue branch, several members of the group — which ranged in age from "four to 84" — sat in silent prayer outside the door while other members attempted to get inside. The door was locked with a security guard and an undercover city police officer on hand to prevent protesters from entering.
From there the group moved to the front of PNC headquarters to sing songs and left messages for PNC in chalk on the sidewalk and on a wall dubbed as one of the largest "green walls" in the country. The protesters disagreed.
Kate Sundberg, 16, traveled here from Florida to attend both the conference and the PNC protest. She was also on hand at the bank's shareholder meeting in Tampa in April when EQAT protested there as well. And although there aren't even any mountains in her home state, Sundberg says, "I still care about clean air and water." She and her family visited an MTR site in West Virginia on the way to Pennsylvania.