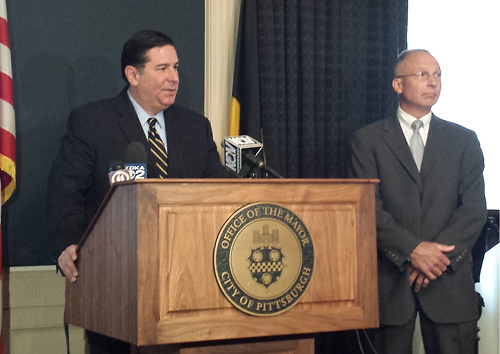 Mayor Bill Peduto introduces new City Public Safety Director Stephen Bucar
Mayor Bill Peduto wants to know what you want in a new police chief.
Peduto and Acting Public Saety Director Stephen Bucar announced this morning the process for soliciting the public's input in the selection of a new chief. On Tuesday, the pair announced that they hoped to have the new chief in place by Labor Day.
A series of public meetings will be held starting June 26 in each of the city's six police zones attended by both Bucar and Peduto. Public comment will also be sought online using Mindmixer — a website used by the city to promote community comment and engagement on civic issues.
"This is going to be a public outreach directly to the people of Pittsburgh asking them what they want in a police chief," Peduto said in a statement that appears after the jump.
The department is currently being led by acting police chief Regina McDonald who took over after the resignation of Police Chief Nate Harper who has since pled guilty and been sentenced to 18 months in prison for the misappropriation of public funds.
The dates for the public hearings are below, although the locations are subject to change, according to a release:
Zone 2 - Thursday, June 26 @ 6 p.m.
Teamsters Local 249 (aka: Teamster's Temple)
4701 Butler St. - Lawrenceville
Pittsburgh, PA 15201
—
Zone 6 - Monday, June 30 @ 6 p.m.
Greenway Middle School*
1400 Crucible St. - Sheraden
Pittsburgh, PA 15205
—
Zone 5 - Tuesday, July 8 @ 6 p.m.
The Kingsley Association*
6435 Frankstown Ave. - Homewood
Pittsburgh, PA 15206
—
Zone 3 - Wednesday, July 16 @ 6 p.m.
South Hills Senior Residences
125 Ruth St. - Beltzhoover/Knoxville
Pittsburgh, PA 15211
—
Zone 4 - Tuesday, July 22 @ 6 p.m.
Jewish Community Center*
5738 Forbes Ave. - Squirrel Hill
Pittsburgh, PA 15217
—
Zone 1 - Thursday, July 24 @ 6 p.m.
Our Lady Queen of Peace Church*
907 Middle St. - Brighton Heights
Pittsburgh, PA 15212
MAYOR WILLIAM PEDUTO AND ACTING PUBLIC SAFETY DIRECTOR STEPHEN BUCAR DETAIL NEXT STEPS IN POLICE CHIEF SEARCH
PITTSBURGH, PA (June 11, 2014) — Mayor William Peduto and acting Public Safety Director Stephen A. Bucar today announced the upcoming public phases of the city's search for a new Pittsburgh Police chief, including six public meetings and a site for online remarks.
Bucar, who started work June 9, will lead the search with Mayor Peduto and write the standards profiling the best applicants for the position. The search — done in conjunction with the public-private Talent City initiative — will also be informed by large-scale public participation. The first public meeting will be June 26.
"This is going to be a public outreach directly to the people of Pittsburgh asking them what they want in a police chief," Mayor Peduto said.
Acting Director Bucar will attend the public meetings with the Mayor. The former F.B.I. Special Agent said he is looking for someone with experience in managing a large city police department, improving community/police relations and overseeing discipline fairly — in addition to experience fighting crime.
"If they've shown significant crime-reduction based on specific strategies, I want that knowledge in our department and our police chief," Bucar said.
Throughout the summer, Public Safety Councils in all six of Pittsburgh's policing zones will hold forums to provide residents with the opportunity to be involved in the process of selecting a chief. A full list of meetings is below.
During these community forums, residents in each zone will have the opportunity to share their ideas about how to improve policing in Pittsburgh, identify their priorities, and suggest the qualities they believe are essential in the new chief.
The sessions will be structured to ask residents specific questions about policing, and to measure and record their responses. The information residents provide will be given to the search committee tasked with developing a list of candidates for the Mayor and Bucar to consider.
In conjunction with the meetings to gather feedback on this important decision, the city has set up a platform for citizens to register their opinions online. The formal launch this week of the city's Mindmixer site is the latest digital component to the administration's community engagement efforts.
Mindmixer is a site for encouraging and collecting community input on civic issues. Those interested in the search for a police chief may log on to pittsburghpa.mindmixer.com and answer three general questions:
- What priorities does your community need the new Chief of Police to address?
- What qualities and skills does your community need the new Chief of Police to have?
- What can you and others in your community do to help realize the vision of policing in partnership with the community?
Along with those questions, citizens visiting the Mindmixer site are invited to weigh in on other policy topics important to the administration and the city. Topics will be posted on a rotating basis, but to start the city is asking citizens about:
- Open Data. As the Innovation and Performance Team sets up the city's Open Data program, we want the public's input on what data will be the most useful or interesting to community groups, researchers, and citizens.
- Welcoming Pittsburgh. The Mayor has set a goal of attracting 20,000 new residents. The Bureau of Neighborhood Empowerment wants to hear your ideas as they work on making our community more welcoming to immigrants.
Since his election in November 2013, Mayor Peduto has included community engagement as a central focus of how he runs city government. Prior to entering office, he instructed his staff to engage the community in developing recommendations for projects that his administration should undertake on topics from public safety to affordable housing to digital government. The response from citizens was overwhelming, with more than 1,100 Pittsburghers working together to produce scores of recommendations, many of which continue to drive the administration's priorities.
The hope is the Mindmixer website, along with the Mayor's Night Out/In outreach and the work of the Mayor's staff, will continue those conversations.
Recommendations from the online community on Mindmixer will be integrated into the police chief search committee process.
In another bid to solicit public input on the police chief search, Mayor Peduto on May 30 held a roundtable discussion with local youth representing the Hear Me project.
In conjunction with Pittsburgh based Allies for Children, Hear Me developed a youth-police relations campaign designed to create an open dialogue between Pittsburgh police and young people in the city. Hear Me's mission is to amplify kids' voices using media and technology to create a world where they are heard, acknowledged and understood, giving them the power to inspire social change.
The police chief job posting and application process is being facilitated through Talent City, a partnership among the city, the Pittsburgh Foundation and the Institute of Politics.
Public Safety Council meetings (* Location tentative pending availability)
Zone 2 - Thursday, June 26 @ 6 p.m.
Teamsters Local 249 (aka: Teamster's Temple)
4701 Butler St. - Lawrenceville
Pittsburgh, PA 15201
—
Zone 6 - Monday, June 30 @ 6 p.m.
Greenway Middle School*
1400 Crucible St. - Sheraden
Pittsburgh, PA 15205
—
Zone 5 - Tuesday, July 8 @ 6 p.m.
The Kingsley Association*
6435 Frankstown Ave. - Homewood
Pittsburgh, PA 15206
—
Zone 3 - Wednesday, July 16 @ 6 p.m.
South Hills Senior Residences
125 Ruth St. - Beltzhoover/Knoxville
Pittsburgh, PA 15211
—
Zone 4 - Tuesday, July 22 @ 6 p.m.
Jewish Community Center*
5738 Forbes Ave. - Squirrel Hill
Pittsburgh, PA 15217
—
Zone 1 - Thursday, July 24 @ 6 p.m.
Our Lady Queen of Peace Church*
907 Middle St. - Brighton Heights
Pittsburgh, PA 15212