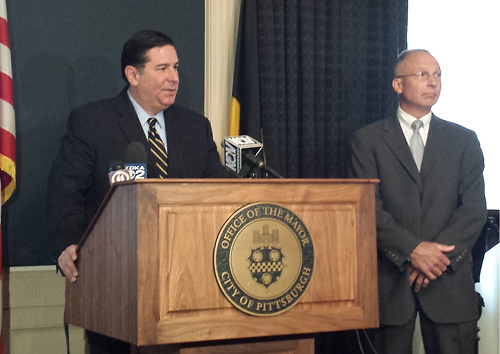 Mayor Bill Peduto introduces new City Public Safety Director Stephen Bucar
With Pittsburgh's former police chief serving time in prison, and a number of officers under investigation for police misconduct, the city's new Public Safety Director Stephen Bucar has a daunting job ahead of him. The former FBI special agent got to work yesterday and today Mayor Bill Peduto introduced him to the public.
"I'm going to be looking at all the problems in the entire public safety department, focusing on the police bureau," Bucar said at a press conference this morning.
Bucar was selected in mid-May after a more than six-month search. He is replacing former director Michael Huss, who served in the position since 2007.
Bucar said he's been following the controversy in the police bureau through the media and knew one of his first tasks would be to help restore faith in the department.
"Actually it's what attracted me [to the position]," Bucar said. "I like a challenge. I'd be lying to you if I didn't say this was a challenge."
The new director's appointment is subject to approval from city council. His salary is $125,000.

Bucar is a a Washington County native with more than 30 years of law enforcement experience. Most recently, he worked in the FBI's Counterterroism Division in Washington D.C. and before that he was in charge of a branch within the New York Joint Terrorism Task Force.
"My memories and my roots to public safety go deep," Bucar said. "People don't go into this to get rich. They do it because they feel a sense of duty."
As Bucar gets acclimated, the city is already moving forward with their search for a new police chief, a role Mayor Peduto sees as important to restoring the community's confidence in the department, and the police officers' confidence in their leadership.
"We have to raise the morale in the bureau," Peduto said. "It's the lowest I've seen it."
Bucar said he wouldn't discount those within the bureau from the police chief position. The city says they hope to have a new chief selected as early as Labor Day.