Yesterday, Twitter noticed a new set of ads on Port Authority buses.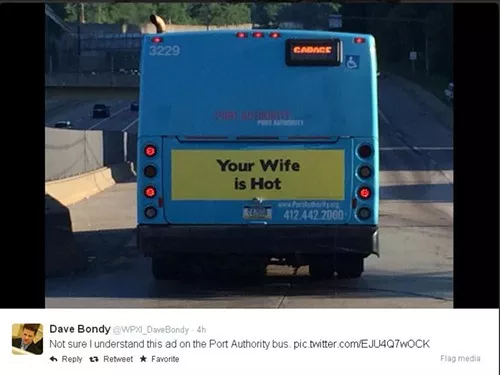 And the jokes started rolling in.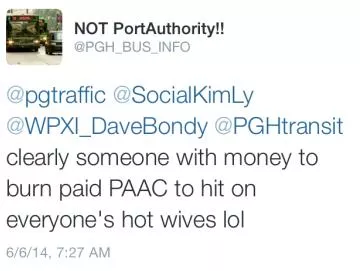 Followed by speculation.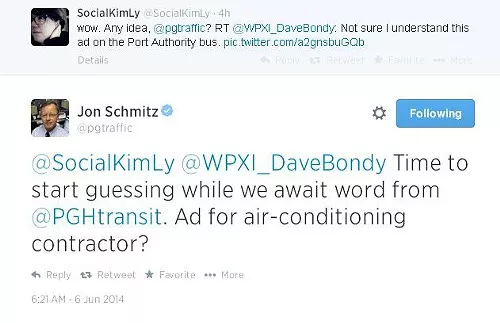 Which turned out to be....correct.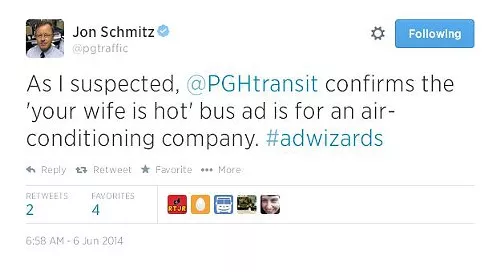 Port Authority spokesman Jim Ritchie confirms the ad is for "Sullivan Air Conditioning" and "another ad currently running says it's time to update your air conditioning." He didn't immediately confirm how many buses the ads are on.
Neither Sullivan nor their ad agency immediately responded to a request for comment.
But if their website is any indication, husbands around Pittsburgh have plenty to fear.
UPDATE: Colleen Geletko, marketing coordinator for Sullivan Super Service, said the ads are in "[celebration] of our 50th year of service [and] we thought we'd do something fun to grab people's attention."
The ads that simply say "your wife is hot" were meant to run for two weeks without any context, Geletko says, but there was a "mix-up" which caused them to appear along with this ad at the same time:

The ads went up Wednesday and are currently running on 80 buses, according to Geletko.
It's not the first time Sullivan used this advertising strategy: Similar ads were placed on billboards in 2011, Geletko says, but they didn't generate the level of buzz they were looking for.
Asked whether there was concern that the ads would appear to be sexist, Geletko said "We're talking about the wife's body temperature."