Finding a fresh way to discuss the wrenching issue of gun violence isn't easy. But local playwright Marlon Erik Youngblood brings the issue powerfully to life in this new play, set in an African-American neighborhood in Pittsburgh.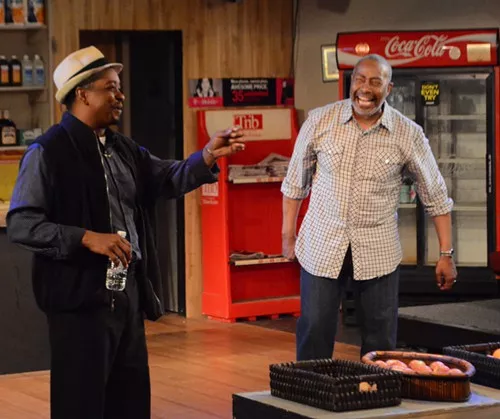 Photo courtesy of Eric A. Smith
Bryant Bentley (left) and Kevin Brown in "Comfort Zone"
Youngblood approaches the issue from an unusual perspective — not that of victim or assailant or their families, but that of the community elder in whose corner store the shooting took place.
On one level, Checkers, movingly played by Kevin Brown, lives the drama of the suspected snitch. (Friends of the shooter think he's talked to the cops.) But more tellingly, Checkers is forced by the killing to a crisis of conscience: He realizes that over the years he has walled himself up in his store, his "comfort zone," instead of being a leader and mentor in his community.
The script has some rough edges, but the passionate Pittsburgh Playwrights Theatre Co. production, directed by Mark Whitehead, is well worth seeing. Other standouts in the cast include Bryant Bently as Checkers' wonderfully cynical friend Slick.
There are three more performances, tonight and tomorrow's matinee and evening show.

Pittsburgh Playwrights is located at 937 Liberty Ave., Downtown. Tickets cost $20-30, and are available here.