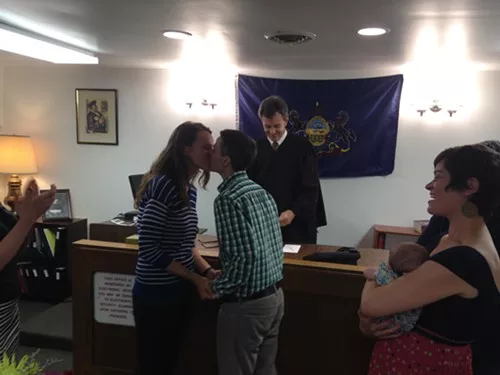 Jess Garrity, right, and Pamela VanHaitsma became the first same-sex couple to be legally married in Allegheny County
When Jess Garrity and Pamela VanHaitsma appeared at the City-County building this morning, an hour before the Marriage License Bureau opened, they thought there would certainly be a crowd of other same-sex couples clamoring to apply for marriage licenses.
"We didn't plan to be first in line," VanHaitsma, 35, says.
But by days' end, not only were they the first same-sex couple to show up in person to apply for a marriage license, they stood in front of judge Hugh McGough — all three fighting back tears — and became what is likely to be the first same-sex couple wed in Allegheny County whose marriage will be recognized by the state.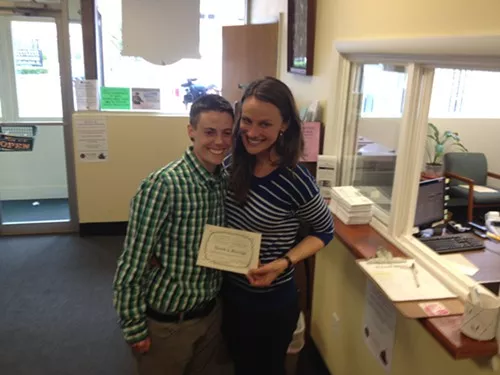 Jess Garrity, left, and Pamela VanHaitsma with their marriage license
In McGough's austere office — decorated with a few pieces of art and polaroid photos of other couples he's married tacked to a bulletin board — he asked how they'd like their vows to be worded.
"My standard vows include the terms husband and wife," McGough said, the linguistic hurdle lingering in the air for a moment. The couple conferred briefly, settled on "spouse and spouse," but wondered allowed if that might be confusing.
"It's your day, you get to call the shots," McGough said, and the couple stuck with it, surrounded by a handful of friends and family.
The possibility of their four and a half year relationship morphing into a civil marriage recognized by the state and federal governments seemed remote four days ago, when they were married in a non-civil ceremony at the Union Project.
Since Saturday, though, three judges intervened.
On Tuesday, federal Judge John E. Jones III struck down Pennsylvania's same-sex marriage ban, opening the door to new marriage licenses and the recognition of same-sex couples who were legally married in other states. "We are a better people than what these laws represent," Jones wrote as the closing line of his opinion, "and it is time to discard them into the ash heap of history."
And earlier this morning Orphan's Court Judge Lawrence O'Toole issued a swift decision to waive the traditional three-day waiting period required of couples seeking marriage licenses across the state. It also took McGough, who agreed to preside over a civil ceremony just a couple hours later.
"It kind of just snowballed," says Garrity, a 38-year-old research associate at the Western Psychiatric Institute and Clinic. She says they had no intention of challenging the waiting period, but were encouraged by McGough with whom they were casually acquainted to talk with Sam Hens-Greco, the lawyer who agreed to take their motion to court.
"The logic of the three-day wait is you're not making a rash decision," VanHaitsma said on the 61D-Murry she had just boarded on the way to McGough's office in Squirrel Hill. "And we're not making a rash decision."
And while the couple expressed some concern throughout the day of what might become of their marriage, legally, if Gov. Tom Corbett sought to put Jones' opinion on hold while he appealed, by the end of the day the governor's office had issued a statement saying he would not appeal.
As the ceremony in McGough's office wrapped up, he took out his cell phone to add their photo to his bulletin board. Unlike the other photos, though, he asked for them to pose in front of the Pennsylvania flag.