Asked to imagine the best work experience for running a literary lecture series, you might not think "television producer." But Jayne Adair says the jobs have a lot in common.
Adair should know: Tonight, at Carnegie Music Hall, the former TV producer and TV marketing executive introduces her final speaker as executive director of Pittsburgh Arts & Lectures.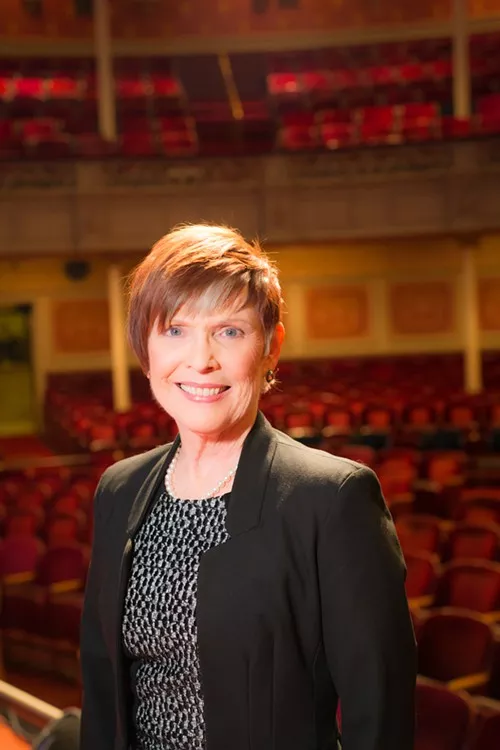 In May 2007, Adair took over a struggling arts organization; after seven years in the post, she's retiring. But today Arts & Lectures is financially stable, with more than 1,000 full and partial subscribers — more than double the number when Adair took over.
Art & Lectures also runs a Kids & Teens program for youth-lit authors, and the free WritersLIVE series, at the Carnegie Library main branch. Meanwhile, sellouts of the 1,800-seat Music Hall — like tonight's for author Ann Patchett — happen with some frequency.
Adair says her M.O. was simple from the start. "I just approached it like I would have a television marketing challenge," says Adair, a South Carolina native who in the 1980s and '90s worked locally at KDKA, WQED and elsewhere.
Not that success at Arts & Lectures came easily. Weeks before she makes way for new executive director Stephanie Flom, Adair spoke with CP about her time at Arts & Lectures and the program formerly known as the Drue Heinz Lectures, and now called the Literary Evenings Monday Night Lecture Series.
What challenges did you face in 2007?
At that time there was a lot of confusion in the brand between the Drue Heinz Lectures and the Pittsburgh Speakers Series [the Robert Morris University series where Adair had worked as a consultant]. … No one was really working to find corporate support for the individual Drue Heinz Lectures. … There was declining attendance at the lectures, and there was a real urgency to grow new audiences and find new sources of revenues.
How did you begin?
I started to sell ads in our program book! [Laughs] That just sounds so totally simple. Like, how can that possibly address anything? But our program book, there had been no advertising to speak of. …. I just went into a frenzy trying to fill that program book the best I could. I look back on that program book now and it's so thin compared with our program book these days. I mean, we have four times, five times as [much] advertising as we did then.
I used all the corporate contacts that I had developed. … I had had a career in television production and sales that went back to 1980. I had a good list of directors of marketing, of people who I thought would be interested in supporting the arts. As soon as we started to sell program ads, I turned my attention to trying to find sponsorships for the individual lectures.
Those sponsors now include names like UPMC, S&T Trust and The Ellis School. How do you recruit them?
We sort of position it as a way of entertaining clients that is very different from taking them to play golf, and that is also a wonderful way of having clients meet and greet a distinguished American writer — usually American, but a distinguished writer — at a reception, and then taking them a signed book, so it becomes a very memorable evening.
How about programming? Did you choose speakers differently than your predecessors?
The series that I took over the first year, the first three lectures were Azar Nafisi, Orhan Pamuk and Chimamanda Adichie, when no one knew her. Elizabeth Kolbert, who just wrote The Sixth Extinction, was also on that series. And they're great writers, but Pittsburgh didn't know who they were.
I really felt that name recognition — I knew it had always been important in this market. Pittsburgh is not a market where people want to pay to hear someone they never heard before to see if they like them. … This isn't a community that's a trendy community where people throw their money away. … I knew that from marketing research in television, and so I just determined that name recognition is important, and sampling is important — it's always important to have one writer on every schedule who opens the doors and brings in people who have never been to the programs before, so that they sample Literary Evenings for the first time.
But it's really important to maintain our literary quality. And the board really is concerned about that, too.
How did the first season you programmed, 2008-09, go?
Coming out of that first series, who were international names that no one recognized ... the second year … I thought, "Ah, I'm just gonna blow this place away. I know who people want to hear." And I booked Tina Brown with a Diana bio for opening night. And about 1,100 people showed up out of 1,800 seats. I just could not believe it! … Coming off a year when atteendance had declined, that [speaker] didn't get people excited.
And attendance kept dropping?
When [attendance during] the 2010 season went down … we were going down down down.
When did things turn around?
It was not until the 2011-12 season, when we had a 45 percent increase in ticket sales — it was like it came out of nowhere. I remember [the staff] looking at each other that summer, saying "This can't be right. These numbers can't be correct. We can't have this kind of increase." We went down down down, and this huge leap.
And in the last two years we've continued to increase.
To this day, I look back at that and say, that's kind of the story of performing arts. When it starts going in one direction, it really is hard to turn it around, and you have to do things right for a while before people can start paying attention because we don't have large marketing budgets to let people know that there's been a change, and it kind of has to travel by word of mouth and by people getting excited.
How does this all relate to your TV experience?
All those jobs have been marketing jobs in one sense or another. The marketing skills that I developed in television — the marketing, programming and produciton skills that I sort of cut my teeth on in TV are exactly the skills that have helped me out here. It's all about audiences. Understandintg the audience. Understanding that what the audience wants is sometimes very different than what you want. And developing a vision that the audience embraces because it really is the audience's vision, it's not your vision.
You've also courted book clubs.
Coming from the world of commercial sales and marketing, I had a lot to learn about the arts landscape. And I will say that the way we've built individual support is just one person at a time, and primarily through community book clubs. But it was really hard to connect with book clubs. We started doing book-club raffles. We give discounts to book clubs. I've gone to talk to book clubs. We communicate with book clubs online a lot; with social media, it's oh so much easier than it used to be.
Have any changes in the audience surprised you?
A wonderful surprise has been the lectures we've done with the United Black Book Club. We brought in Isabelle Norris and Michelle Wilkerson two years ago, and filled the house … and it was a standing ovation. And that night, I really realized that our lectures can completely bring a diverse audience to the hall. Because everybody reads. Books are the way to do it. Not everybody understands classical music, not everybody understands dance, performing arts. But there are so many readers in Pittsburgh across all the cultures. … If the book is compelling, people will come.
You introduced some new pricing options, too.
It just became really clear to me that we didn't have a price that was low enough, that literally anybody from the community could come if they wanted to. So the third year I was here …. We opened our second balcony up to general admission. And we offered a $100 ticket for all 10 lectures. We offered a student ticket with student ID for $10 for any lecture. We offer anybody else a ticket for $15, and we offer book-club discounts in the second balcony as well. There's 600 seats up there! It's a third of our house. … and it's pretty much full now.
Starting in 2009, at Pittsburgh Opera's headquarters, you teamed with The Moth storytelling series for annual "Moth Mainstage" shows.
It was new, it was exciting, we filled the space, and it was a risk, but it all worked. We didn't lose any money, and we had a little of that income to pay the administrative costs on it, which had been substantial, to get our own costs, our staff. [The Moth shows now pack the Byham Theater.]
Did The Moth event change how you viewed programming?
It really was an eye-opener, because I realized then, and only then, that there was room in our programming for speical events that were not literary, but that were about words and were book-based, that were broader. For instance, the RZA. Or bringing in Judy Collins, and her memoir. Bringing in Neil Gaiman last year. Writers that our normal lecture audience don't know and working in formats like the interview format we did with Sonia Sotomayor that doesn't wash at the lecture series; that audience does not like intervews.
The following year was when we started to do our special events, and the first one we did was [Fight Club author] Chuck Palahniuk. We presented Chuck over in the Bellefield Hall, on the Pitt campus. Palahniuk … was toally profane and totally exciting. We filled the place and had an audience that we never had before. I knew that if Chuck Palahniuk could work here, then other things could work here.
Ever since then, we've done a series of special [events]. This year we did Terry McMillan at the Byham as a speical event. ... We've got [The Butler author] Will Haygood coming in, that's a special event, and Sonia Sotomayor was a special event.
What do you plan for retirement?
I have a large family. My mom is 92, and she's a pistol in south carolina, and she really hasn't seen me since my dad died this summer. … I have a daughter in California who had a baby in December. … I have a duaghter in Cleveland who has two children and I don't have nearly enough presence in their lives.
This is not retiring to travel. Basil [Cox, her husband,] and I travel a lot. There's so many things in Pittsburgh that I want to enjoy: bike trails; more symphonies; I want to still be a part of all the pgh arts and lectures programs. … I have loved this city. It's been so good to me.
What about your successor, Stephanie Flom?
Stephanie is such a capable arts administraotr. She knows the arts landscape locally so well. …. She brings so much to the table, and a whole different group of those people than I know. I think the organization can anticipate continued growth ahead with her leadership.
Final thoughts?
This seven-year part of my career has been the opportunity that I always wanted to give back. And if I've helped to strengthen the literary arts in Pittsburgh just a little bit, then that's been so satisfying for me to be able to do.