This 2011 comedy explores an issue familiar to most of us: The endemic Hollywood racism that limited roles for black actors in the 1930s (and which, of course, even today hardly vanished).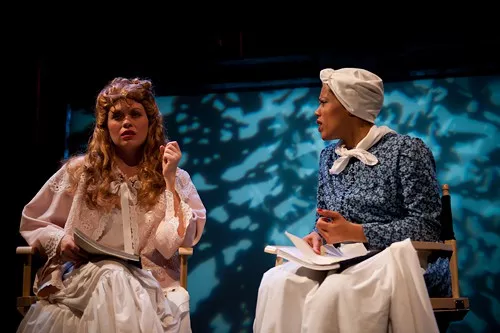 Kelly Trumbull (left) and Maria Becoates-Bey
But playwright Lynn Nottage is too smart to simply decry the circumstance. And so Act I of this REP production is a substantial, layered comedy about a Hollywood diva circa 1933 and her African-American maid … who are destined to end up onscreen in the same Southern epic, starring as mistress and slave.
As Ted Hoover notes in his review for CP, the first act is a riot, bitingly funny. But in a way, how Nottage handles Act II impresses me even more.
Nottage knows that what matters isn't just that Hollywood was racist in 1933; it also matters how we talk about it now. And so she's constructed an accessibly, in fact entertainingly postmodern way of doing that.
The act opens with a condensed version of that plantation epic (The Belle of New Orleans), starring the actors from Act I, projected on screen. Then Nottage introduces the participants on a present-day academic symposium on the maid/actress Vera Stark, who went on to a long film career before, apparently, vanishing.
But the real stroke of genius, both thematically and theatrically, is to have those commentators watch the last known footage of Stark, from her 1973 guest spot on a Mike Douglas-style TV talk show — and to act that talk show out live (rather than prerecorded, like Belle).
The device beautifully makes us understand the long passage of time and chasms of culture — both the four decades between the black-and-white Belle and the day-glow '70s, and similar span that elapsed between the cheesy show-biz chat show and an earnest symposium. And Nottage and this fine REP production cram as much of those cultural sea changes and cross-currents into one play as you could reasonably expect.
Five more performances of By The Way, Meet Vera Stark remain, tomorrow through Sunday. The show's at the Studio Theatre of the Pittsburgh Playhouse, 222 Craft Ave., Oakland.
Tickets are $24-27 and are available here.