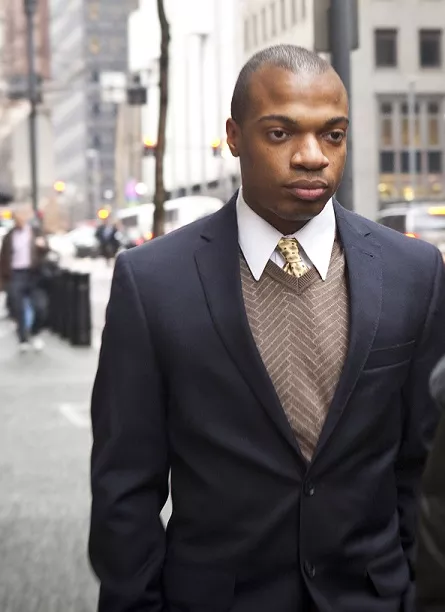 A friend of Jordan Miles was scheduled to testify Monday that Miles told him that he did have a soda bottle in his pocket the night he was confronted and beaten by three plain clothes police officers in January 2010.
But plans to call Ryan Allen hit a snag when Miles testified Monday morning that Allen admitted to lying to FBI agents about the conversation so he wouldn't have to participate in the case any longer. Allen allegedly told the FBI that Miles told him the police officers found a Mountain Dew bottle in his pocket. Because lying to law enforcement in a statement is a crime, a defense attorney was called in to represent Allen and advise him of his 5th amendment right not to incriminate himself.
Allen was not called to testify today but could be first to take the stand tomorrow.
Miles brought the civil lawsuit against officers Michael Saldutte, Richard Ewing, and David Sisak over an altercation on Tioga Street in Homewood in January 2010. Miles claims the officers never identified themselves as cops and excessively assaulted and unjustly arrested him. The officers say they approached Miles because he was acting suspiciously around the side of a home and they believed he had a gun, which turned out to be a Mountain Dew bottle. However, Miles says he never even had a bottle, a claim the officers were trying to dispute with Allen's testimony.
Miles finished his testimony Monday morning and his attorneys rested their case this afternoon. The defense case began with an opening statement by Ewing's attorney Robert Leight, who said this case isn't about guns, race, or excessive force.
"What this case is about is what a reasonably objective police officer would do," Leight told jurors.
To that end, the defense called David Wright, a 20-year veteran officer as its first witness. Wright works at the police training academy as a use-of-force instructor. He explained the police's "plus one" rule where an officer can use force at a level above the force being used by a suspect.
"Arrest is not a sport," Wright said. "It's not an area where an officer can afford to lose."
The defense also called officer Darren Fedorski, who was one of two officers called to the scene to transport Miles to jail on the night of the incident. Fedorski said the three officers didn't appear injured when he arrived at the scene and that they didn't mention Miles having a gun.
Fedorski also testified about his interaction with Miles at the hospital before he was taken to jail.
"He said he was glad it was police that he fought with," Fedorski said. "Because if it was gang bangers he would've been shot."