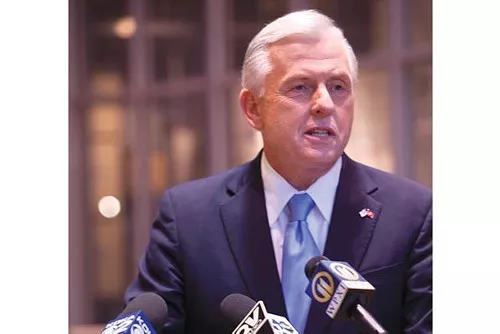 When I spoke earlier this week with Jack Wagner about his newly launched run for governor, perhaps the most surprising thing was how unconcerned he seemed about getting into the race while short on money, campaign infrastructure and time.
He also rejected the notion that the only reason he's getting in the race is the belief that a single candidate hailing from Western Pennsylvania can pick up a lot of votes against a handful of Eastern challengers.
Then again, when Wagner sat down with City Paper prior to last year's mayoral primary, he didn't want to discuss strategy either. And there too, he faced questions about how an under-funded late-comer could surpass candidates who'd already been campaigning for months.
Wagner was more willing to talk about the reasons he says he got into this race, and the fact that he has run and won a statewide race, making him one of only two candidates in this race (state treasurer Rob McCord being the other) to do so.
Here are some snippets from my conversation with Wagner that didn't get into this week's print edition:
On Marcellus Shale Drilling
Wagner says there must be "strict oversight" of natural gas drilling because he has concerns that fracking "can potentially harm the environment." He is against drilling in state parks and forests, and says protecting the state's waterways from pollution from fracking and drilling must occur "without exception." Wagner also says that drilling companies must start paying more in taxes to the state. He wants to see a severance tax in place, similar to those imposed in other major energy-producing states. "Look: Texas has a severance tax, Alaska has a severance tax. I find it odd that the revenue coming into our government is far below that of other states that are far more conservative than Pennsylvania."
On Fuel Alternatives
Wagner says within one year of taking office he would turn the Pennsylvania Turnpike into "the first alternative-fuels road," offering refueling and recharging stations for vehicles powered by compressed natural gas and electricity. He would also offer incentives for retailers to offer the same services within one mile of freeway exits so "you can virtually travel anywhere in the state on alternative fuels."
On Running a Statewide Campaign and completing with Eastern Democrats
"I know what it's like to run a statewide campaign," says Wagner who points out that he's "never lost a general election" (although he has lost Democratic primaries for both governor and Pittsburgh mayor). He says he is known across the state and he will appeal to the majority of Pennsylvanians that he says favor moderation like him and know him from his days as auditor general. "As auditor general, I had a stellar record of leadership and governance. I think my candidacy will be successful because of the professional job I did in that post."