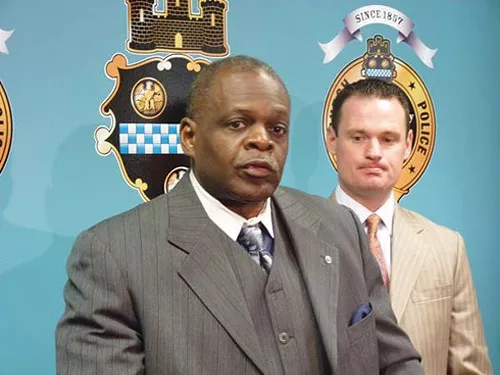 City Paper File Photo
Nate Harper
Earlier today, former Pittsburgh police chief Nate Harper was sentenced to 18 months in prison for conspiracy, theft of public funds, and tax evasion.
"We've spoken to [Harper] and he's extremely disappointed and distraught," said Bob Leight, one of Harper's attorneys.
In March of last year, Harper was indicted by a federal grand jury and in October pled guilty of directing more than $70,000 in public funds to an unauthorized credit union account and personally spending roughly $32,000. It has been almost one year to the day since he announced his resignation from the Pittsburgh police bureau on Feb. 20.
"I made a mistake," Harper said before receiving his sentence. "It has tarnished the law enforcement community. I'm a broken man.
"I can't tell you why I made the mistake. It was a lapse in judgment."
It was hard to find anyone who had a bad word to say about the beleaguered Harper who served more than 35 years on the police force.
"I don't know anyone else who has more integrity than this man," said Bobby Hassain, a lifleong friend of Harper's.
For this reason, Harper's attorneys sought to have his sentence reduced from the suggested range of 18 to 24 months, to probation. They said Harper has been punished enough as a result of the public shame he has endured and will continue to endure.
Retired veteran police officers Louis Gentile and Daniel Cuneen were the first of seven witnesses to testify on behalf of Harper at the sentencing hearing. They highlighted Harper's years of service on the force and meteoric rise to police chief.
"It would be hard to find a better cop, a better man, than Nate Harper," Cuneen said.
Even assistant U.S. attorney Robert Cessar reflected positively on Harper's contributions to law enforcement.
"Had I not been a United States district attorney, I've might've been one of the ones writing a letter of support," Cessar said but added he thought the suggested sentence was fair.
Judge Cathy Bissoon agreed. Characterizing Harper's actions as "government corruption and betrayal of the public trust," she said "affording the defendant anymore leniency would send a dangerous message to the public."
A tearful group of family and friends huddled around Harper as he exited the courtroom.
"I think the judge came in with her mind made up," said William Thompkins who testified on Harper's behalf.
UPDATE
U.S. district attorney David Hickton held a press conference following the sentencing hearing.
"When those who the public entrust with authority place greed over good, they must be held accountable," Hickton said.
The U.S. attorney's office is still investigating the credit union account and others involved. Hickton said Harper will not face additional charges.