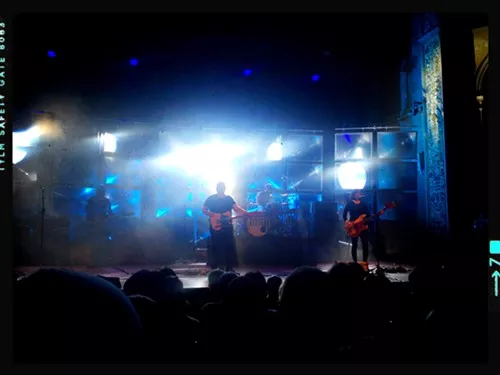 PIxies at Carnegie Music Hall, Oakland
Over the course of the past year, the Pixies went from Kim Deal to Kim Shattuck, but then pretty quickly replaced the Kim trend with Paz Lenchantin, formerly of A Perfect Circle, among other projects. Some die-hard Pixies fans got their panties in a bunch over the loss of the OG Kim and then the band went and replaced her replacement anyway. So, the question now is, can the Pixies forget about Kims and move on with all the raging rockness that they had in the '80s and '90s? Apparently some say no. But those were likely the people who just couldn't afford a ticket.
Those naysayers can be damned because the Pixies plus Paz actually rocked the crowd's collective face off on Saturday night at the Carnegie Music Hall in Oakland. With a robust 27-song set and a hearty 4-song encore, Black Francis crooned and belted to a crowd of aging hipsters. Apologies if that's not the right word for them, but what else do you call people with style, good taste in music, a few gray hairs and a penchant for craft brews?
From the opener of "Bone Machine" all the way to their passionately, well-done cover of The Jesus & Mary Chain's "Head On," Lenchantin proved that she belonged on stage with the guys, and the Pixies proved that they can still rock as hard as they did in '86.
They tried to tease the crowd a bit at the end, as if they weren't going to play an encore. Which, why wouldn't they? — is what most everyone in the concert hall was thinking. After much continuous applause and some second and third tier stomping, the band reformed in front of the flashing light backdrop that made Carnegie Music Hall feel way more epic than it probably ever has, and they proceeded to play to their adoring fans who knew all the lyrics. They played "Wave of Mutilation" a second time (the first time it was the UK surf version, in case you were there and you know their discography that well). And then they closed, quite perfectly in fact, with "Where is My Mind?"
With the entirety of the Carnegie Music Hall on their feet, the Pixies took a bow and exited leaving no doubt that they still got it.