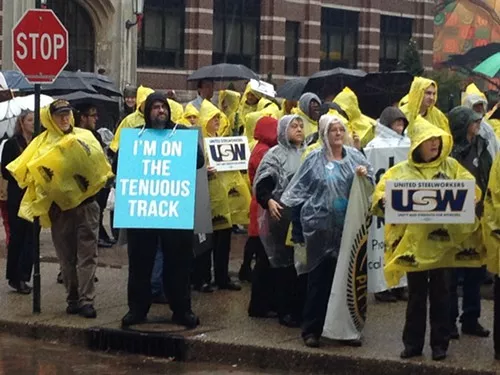 Protesters outside Duquesne's administration building
Adjuncts, theologians and members of the United Steelworkers rallied this morning at Duquesne University and delivered petitions with around 20,000 signatures in an attempt to continue to pressure the university to recognize an adjunct union.
"The Catholic Church is very clear about workers' rights," said Father Jack O'Malley, chaplain of the Allegheny County Labor Council. "Workers have a right to join a union. Workers have a right to good healthcare. Workers have right to a living wage."
The university originally appeared to be receptive to the adjuncts' unionization efforts, which began in 2011. It accepted the jurisdiction of the NLRB in a May 2012 election agreement, but withdrew a few weeks later, claiming a religious freedom exemption as a Catholic institution.
That stance drew criticism from a number of protesters including Robin Sowards, an adjunct at Duquesne and Pitt and organizer of the Adjunct Faculty Association through the USW. He helped deliver the petitions to Duquesne vice president John Plante.
"I asked him to stand by the university's agreement [...] to recognize the union and bargain," Sowards says. "Mr. Plante had no response; he had nothing to say. And that's not surprising because their position is completely indefensible."
About a month ago, Sowards says, "We offered in writing to negotiate outside the NLRB in which case there would be no government involvement of any kind. They said [it] would still interfere with the religious liberty of the university."
The university's stance has changed in the wake of the death of Mary Margaret Vojtko, a Duquesne University adjunct who became the face of financially struggling part-time faculty.
In the past, the university would say it wasn't hearing complaints from adjuncts. Now, Sowards says, the administration recognizes there is a problem.
A decision on the university's appeal to the National Labor Relations Board in Washington, D.C. is pending.
Duquesne did not immediately respond to requests for comment. The story will be updated with their response.