They say that art mirrors life. Which may explain why, even in a Post-Gazette illustration of notable Pittsburgh personages, outgoing Mayor Luke Ravenstahl is a no-show.
The "Magazine" section of today's P-G includes a full-page illustration of notable Pittsburghers, all gathered in Market Square. The illustration is a "Where's Waldo"-style visual game in which you are urged to "Find Xante" — a service dog that exerts a powerful hold on the paper's collective psyche. But readers are also urged to see if they can identify "a variety of Pittsburgh figures, present and past" in the image. Among the local personages depicted in the illustration are: mayor-elect Bill Peduto, blogger Virginia Montanez, rapper Wiz Khalifa, an assortment of local sports heroes — and, OK, a couple car dealers/P-G advertisers.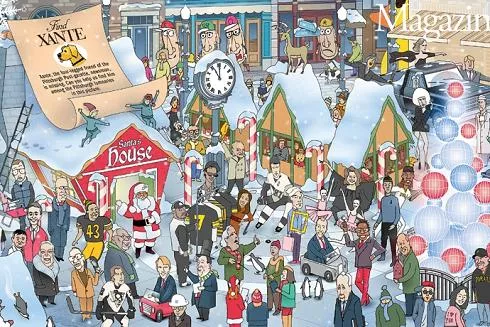 Ravenstahl's name is listed among the 40-plus celebs readers are invited to find — he's named just after Pittsburgh Symphony music director Manfred Honeck, and just before organ-transplant pioneer Thomas Starzl — but he's actually not in the illustration at all. A reader could spend hours hunting him in vain ... just as many a reporter has done in recent months. But a check of the illustration's index, printed on the section's second page, confirms that the mayor is simply not to be found. Readers are left to wonder: Did the illustrators who created the image — Daniel Marsula, Ed Yozwick and James Hilston — simply forget to pencil in the mayor? Was Ravenstahl omitted because Seven Springs fell outside the page margins?
Or, as we here at City Paper suspected, was the omission a wry commentary on the mayor's no-show reputation?
"It's just what you said," Marsula confirmed when reached by phone.
"It wasn't my idea," Marsula added. Illustrators sounded out the newsroom staff on which local figures should be included, and making Ravenstahl conspicuous in his absence "was one of the very first things that they mentioned. After they suggested it, we threw around the idea of doing it back and forth" before deciding to do it.
Marsula says he doesn't know who first proposed the idea. Which is too bad. 'Cause in the holiday spirit, I was going to buy that staffer a seasonal beer.
Though on the other hand ... no one from City Paper was included in the illustration either.