Local writer Matthew Newton has started a new small press, and is launching it with his own lovely new zine, titled "In Case of Emergency." The event is tomorrow night, at Braddock's UnSmoke Systems Artspace.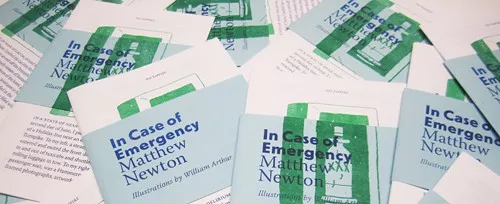 The zine, with illustrations by William Arthur, is another of Newton's takes on young-adult life during the Great Recession. Like
Death of a Good Job
, his e-book from earlier this year, "Emergency" spins off of Newton's abrupt firing from his position as a magazine editor. The new story also draws heavily on his experiences, in 1994, as a high school dropout washing dishes in a Holiday Inn karaoke bar.
Newton's new small-press venture is called No Empire, and "Emergency" is its first publication.
Newton has written for publications including The Atlantic, Esquire, Forbes, Guernica and Spin. (He's also written for CP from time to time.)
Tomorrow's event, co-presented with Small Press Pittsburgh, includes a Small Press pop-up bookshop with works by local authors; vintage-goods shop Do Not Destroy; and readings by Newton, Karen Dietrich and Karen Lillis (who runs Small Press Pittsburgh).
It's also a chance to see the art exhibit View From A Hill, Devon Johnson's "psychological portrait of the landscape of Pittsburgh."
Doors at UnSmoke open tomorrow at 6 p.m, with readings at 7 p.m. The gallery is located at 1137 Braddock Ave., in Braddock. The event is free.