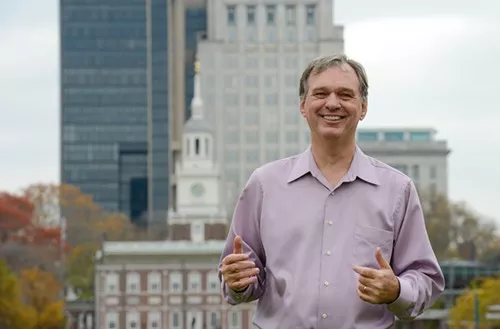 Democratic Gubernatorial candidate John Hanger says he believes next spring's Democratic primary for governor could turn into a referendum on reforming and legalizing marijuana laws.
"I don't want to arrest and lock up thousands of Pennsylvanians every year for possessing and using small amounts of marijuana," Hanger told City Paper Thursday. "I think if people come out and vote in favor of their liberties in May then we will win the Primary."
Hanger was in Pittsburgh Thursday to receive the endorsement of the National Organization for the Reform of Marijuana Laws (NORML). Hanger received the endorsement in front of the Allegheny County Jail Thursday morning.
Hanger, who headed the Department of Environmental Protection under former Gov. Ed Rendell, was the first candidate to enter a now-crowded field for governor just weeks after the 2012 Presidential election. Since then, he has campaigned as an unabashed progressive. He has vowed to repeal the death penalty, supports marriage equality, is pro-choice and is a proponent of single-payer healthcare.
Hanger is touting a three-step plan "to allow medical cannabis, decriminalize possession and by 2017 to regulate and tax marijuana in Pennsylvania." Hanger says he has been talking to residents across the state who are concerned about the issue. Some want to use marijuana for medical purposes. Others, he says, have been unable to get out from under convictions for marijuana possession that have kept them from finding employment.
"For a lot of people in this state, this is the top issue in their lives," Hanger says. "And If I'm elected I support expunging the criminal records of anyone convicted of possessing small amounts of cannabis."
A recent Harper Poll has Hanger running fourth in the primary with 7 percent support behind the race's leader, Congresswoman Allyson Schwartz (22 percent), former DEP secretary Katie McGinty (15 percent) and state treasurer Rob McCord (12 percent).
But Hanger says he's gaining momentum and hopes to hit double digits by the start of 2014 and he's hoping the marijuana legalization issue will help get him there.
"I think this issue will open up a lot of doors because I'm the only candidate in this race talking about it," Hanger says.