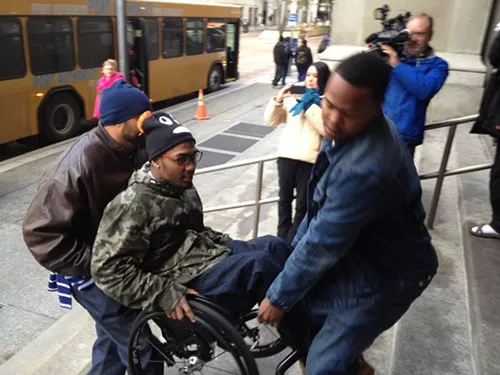 Leon Ford Sr. (left) helps carry his son (middle)
Almost exactly a year after 20-year-old Leon Ford Jr. was paralyzed during a routine traffic stop, his family and friends took their plea for justice to council chambers.
"Everything shows police violated policy, common sense and the truth," said Ford's attorney, Benjamin Crump, flanked by friends and family holding posters of support and outrage. "We're here a year later to tell the mayor and the new administration that [we] aren't going anywhere."
Ford was shot by Pittsburgh police officer David Derbish during a traffic stop in Highland Park last November. The stop lasted longer than usual because officers doubted Ford's identity — though all of his paperwork appeared to be in order. Derbish jumped into the passenger side of the car to try to pull Ford out after he saw a "bulge" in Ford's sweatpants he thought was a gun. The car accelerated and Derbish, still inside the car, fired five shots at Ford before the car veered off the road and crashed.
During its scheduled meeting, Ford addressed city council and dozens of his supporters just minutes after his parents: "I felt like I was in my prime," Ford says. "I was living life, I was having fun [and] they took my legs from me. I'm going to make sure my future is brighter than ever."
Many elements of the case that raised questions in the incident's aftermath were reiterated today: Why weren't the officers' microphones working? Why did Derbish decide to jump into the passenger side of the car instead of drawing his weapon and ordering Ford out? Why did officers doubt his identity?
Police did not immediately answer questions about the status of the internal investigation of the incident or how the officers involved are currently assigned.
Ford, who was 19 at the time of the incident, is charged with a felony count of aggravated assault and misdemeanors including recklessly endangering another person and resisting arrest, court records show.
Ford has since filed a federal lawsuit against the city. "I just want to make sure this happens to no one else," he says.