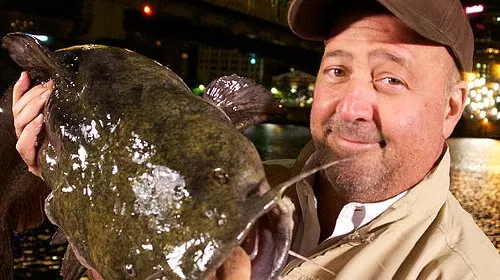 Travel Channel
Andrew Zimmern meets an Allegheny River resident.
If you're tired of hearing from outsiders about Pittsburgh's "weird" sandwich — you know the one with the fries and the slaw, right on it! — tune in Monday for Andrew Zimmern's Bizarre Foods America. In this Pittsburgh edition, the host of the Travel Channel show does visit Primanti Bros., but he also stops by Cure for some goat parts, visits with our own local-food-booster Rick Sebak, checks out sausage getting made and eats a fish caught in the Allegheny River!
The show airs 9 p.m. Mon., Nov. 11, on the Travel Channel.