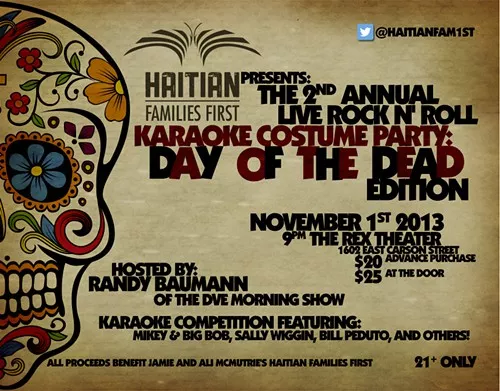 Sisters Ali and Jamie McMutrie are continuing to make an impact years after dramatically rescuing dozens of Haitian children after the 2010 earthquake in the region. Now, the McMutries run Haitian Families First (HFF), a nonprofit organization aimed at helping and empowering Haitian families in despair through emotional, social, and financial support.
Tomorrow (Nov. 9), the pair will host a benefit party at the Rex Theater, featuring karaoke, live performances, and appearances by local celebrities. Mikey and Big Bob of The Morning Freak Show on 96.1 KISS FM, WTAE's Sally Wiggin, and mayoral candidate Bill Peduto, among others, will compete in a celebrity karaoke competition at the event. And don't worry — there will be non-celebrity karaoke, too.
This is the second annual live rock 'n' roll karaoke costume party hosted by HFF and all proceeds will benefit the organization. Randy Baumann of the DVE Morning Show will perform at and emcee the event, which starts at 9 p.m.
More information and tickets can be found at www.haitianfamiliesfirst.org/events