This weekend is full of benefit concerts; on Saturday alone, you can go out and support The Pittsburgh School for the Choral Arts, WhyHunger, and the Arts Department of Braddock Hills High School. Check out more information on these benefit shows below.
This Saturday, head out to Howler's in Bloomfield to show your support for Braddock Hills High School, which is hosting a benefit show for its growing Arts Department. Art teacher Natasha Dean began the Arts Department at the school just last year and is hoping to start a Ceramics Department with the proceeds from this benefit. The show will include live music by local groups The Shelf Life String Band and Grand Piano, an art auction featuring local artists, and a raffle. The benefit will begin at 9 p.m. More information on the benefit show can be found on its Facebook page.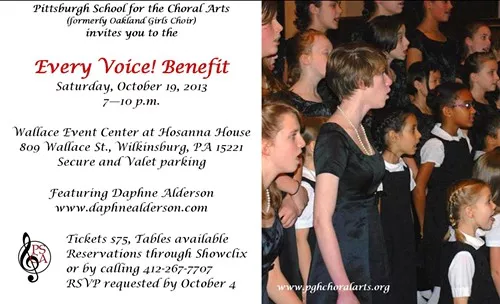 The Every Voice Benefit will also take place this Saturday at 7 p.m. in support of The Pittsburgh School for the Choral Arts (formerly the Oakland Girls Choir). The concert will feature local singer Daphne Alderson performing the iconic ballads of Edith Piaf and Leonard Cohen. The benefit, which will take place at the Wallace Event Center at Hosanna House, will also include a silent auction. More information and tickets can be found at www.pghchoralarts.org/event/every-voice-benefit.
If the weather is nice, you can spend the evening in Donaldson Park for the Fayette Fall Festival. Local band The Damaged Pies will be hosting a "Homemade Jam" at the festival to support WhyHunger, a national nonprofit that supports community-based solutions to hunger and poverty. This all-ages show will begin at 6 p.m. More information on WhyHunger can be found at www.whyhunger.org.