An up-and-coming local performance group keeps taking risks. And most of them paid off in Saturday night's premiere of this hybrid of live actors, multimedia and puppetry at the New Hazlett Theater.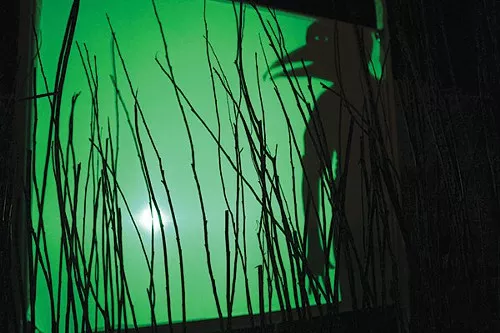 Image courtesy of Miniature Curiosa
Shadowplay in "Birds of America"
That hybrid, by the way, might sound newly familiar. Miniature Curiosa's horror story — about an anxious woman and her weirdly assured bird-expert husband buying a remote, creepy old house — prominently featured projections of video that was being shot live on stage on miniature sets.
In that way, Birds couldn't help recalling Belgian collective NanoDanses' Kiss & Cry, performed at the same theater just a couple weeks ago as part of the Pittsburgh International Festival of Firsts.
The blend of puppetry and live-actor shadowplay also recalled another Festival of Firsts entry, the Perth Theater Company's It's Dark Outside, whose final performance was likely getting underway Downtown just as Birds of America was wrapping up.
But Birds didn't feel much like either of those shows, mostly because they're just different kinds of artists. The fledgling company, led by Zach Dorn and Murphi Cook, "explores the underbelly of childhood nostalgia with the disappointed eyes of adulthood," with shows they describe as "live-action comic books," according to the group's statement.
Indeed, Birds (funded as part of the New Hazlett's pioneering Community Supported Art performance series) was willfully over-the-top, a spookily fun hybrid of The Shining, The Birds, Rosemary's Baby and probably a few other classic horror films beloved of Dorn and Cook.
Dorn's direction kept the show moving; only at the end were a few of the transitions between live action and video confused. And the acting was fine, with Connor McCanlus as the unflappable Dr. Douglas Irene, Ivy Steinberg believably fraught as his wife, and Cook as the world's most comically unnerving real-estate agent.
Inspired touch: The "photographs" in the doctor's slide-show lecture were images of birds menacing his wife. And they weren't photos at all, but images hand-drawn in crayon, as if by a child.
While Birds of America wasn't nearly as slick technically as some touring multimedia shows we've seen lately — and the ending was a bit abrupt — it was proficient enough. And the troupe's energy, inventiveness and talent for creating an atmosphere promise more good things to come from the folks who've already brought us The Luna Park Project and Tonight A Clown Will Travel Time.