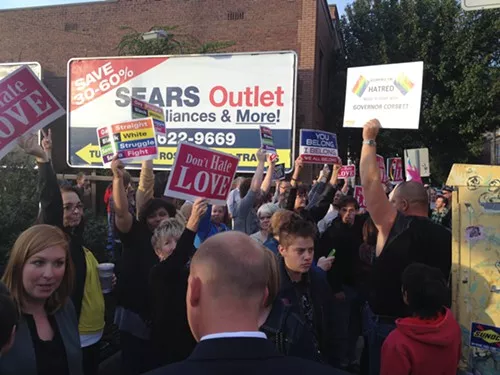 From CP Staff Writer Alex Zimmerman:
After Ben Stoviak posted to Facebook that he'd been assaulted last weekend because of his sexual orientation, the LGBT community called for the incident to be treated as a hate crime.
And that message reverberated through a protest in Lawrenceville Wednesday night at a peaceful event that drew around 100 people to 51st and Butler streets.
Several community members took the opportunity to show their support, with the squawk of car horns cheering them on.
"We are proud, we are gay, and we are human beings tonight," said Bill Gibson a bartender at the Blue Moon bar.
But one of the more unlikely speakers to wade into the crowd was Pittsburgh police Cmdr. Eric Holmes who says he "shook his head" when he read the report of Stoviak's assault. Police have said they have several suspects in the assault.

Holmes was met with questions from Joe King, a 41-year-old Regent Square resident who asked why the police weren't treating the incident as a hate crime.
Holmes responded that sexual orientation isn't considered a class with hate crimes protection under state law.
That drew boos from the crowd, but he encouraged those in attendance to voice their concerns in to officials in Harrisburg.
"He was targeted; it was a hate crime," King says. "If [Stoviak] was African American he'd be treated that way."
Holmes added that "the criminal justice system can be a slow system" but the system will "bring to justice everyone who committed this crime."