While nobody expects to win a MacArthur "genuis grant," we can't say we were too surprised to hear that one of this year's 24 winners of the $625,000 prize was Pittsburgh native dancer and choreographer Kyle Abraham.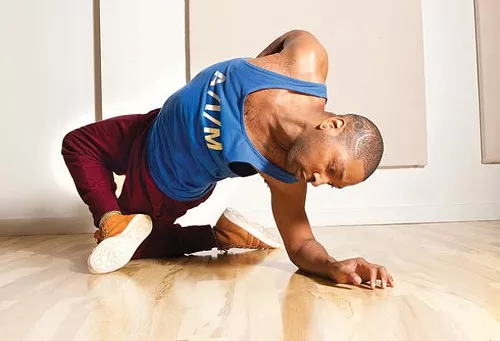 Kyle Abraham photographed earlier this year
We've been highlighting this brilliant 35-year-old CAPA grad and his work for years.
Previewing a 2009 show
by Abraham and his New York-based troupe
Abraham.in.Motion
,
CP
's Steve Sucato wrote: "Talking with dancer and choreographer Kyle Abraham, you get the impression he is on the verge of something big. … Whether he's taking on social issues or making ever bigger splashes on the local and national scenes, the sense that Abraham is on the verge of a breakthrough looms primarily because his talent is just too big to ignore."
OK, we were hardly alone in our admiration: Dance Magazine, for instance, had already named Abraham one of its "25 To Watch" for that year. And Abraham himself — speaking to CP today by phone — credits his success to folks dating back to his mother's circle of friends who still turn out for his Pittsburgh shows like this past Febuary's Pavement, at the Byham Theater courtesy of the Pittsburgh Dance Council (and as featured on CP's cover that week).
"You really realize how big a family can be," says Abraham, speaking by phone from San Francisco, where he is choreographing a new work for Los Angeles-based troupe Body Traffic.
Abraham was caught off guard by being named a MacArthur Fellow. The choreographer was notified of the award about two weeks ago; the public announcement was yesterday. But no one applies to be a MacArthur genius: Winners are simply nominated anonymously, and Abraham says he has no idea who did him the solid.
The venerable award recognizes "exceptionally creative individuals with a track record of achievement and the potential for even more significant contributions in the future." Winners this year worked in fields from public policy, science and medicine to history, literature and the performing arts; Abraham's work often touches on issues like race, urban violence and stereotyping.
"It's kind of great timing," said Abraham of the award. While there's no bad day to get $625,000 (paid out over five years), Abraham said the national press attention should help with his troupe's Oct. 20 fundraiser.
But does he worry people will start thinking they need to raise funds from him? "I totally do," says Abraham. But he emphasized that running a dance company is never a financially secure proposition — not even for a guy who last year was also awarded some $280,000 in direct support (including two years' salary) as the 2012-14 New York Live Arts Resident Commissioned artist.
"We're just starting health care for the company," he said — an initiative that predates the MacArthur award but is sure to be costly for a troupe of nine dancers, folks whose livelihoods are unusually dependent on their physical well-being. And, as he emphasized in an interview yesterday on MSNBC, it was just three years ago that Abraham himself was depending on food stamps.
So Abraham says that — along with finally retiring his student loans! — much of the award will go right back into the work, including possible purchase of a space for him to live and work in.
As for his Pittsburgh connections, Abraham, who grew up in Lincoln-Larimer, also cited the friends of his youth who got him into dance. Other early Pittsburgh dance-scene mentors included Jil Stifel — who ran the first dance workshop he attended after high school, and with whom he later danced and choreographed — and Staycee Pearl. The latter hired Abraham to choreography for her company Xpressions when he was fresh out of college.
Others believed in Abraham back when, too, he says. Sara Radelet booked Abraham's then-largely unknown company for the 2007 premiere of his first-ever evening-length work, Fading into Something Tangible , at the New Hazlett Thater. And janera solomon programmed his work as far back as the 2007 August Wilson Center First Voice Festival. The Kelly-Strayhorn Theater, with solomon as executive director, hosted Abraham's company for two later residencies — including one in which he created The Radio Show, wheich went on to beocme one of his more lauded works to date.
"He's so thorough. so diligent," solomon told CP via email. "It's truly impressive and inspiring. He's just at the beginning ... There's more great work to come."