Bike down Forbes Avenue in Oakland and you'll often be tempted to swerve around a 61C that has stopped to pick up passengers, or tangle with a confused freshman who is navigating crosswalks for the first time away from home.
But what if bikes had their own dedicated space, totally separated from traffic? What if traveling on two wheels didn't mean navigating the city's incongruous bike lanes?
That's what BikePGH, the city's cycling advocacy group, hopes will happen in six key bikeway corridors all over the city by 2020.
That stretch in Oakland would look like this: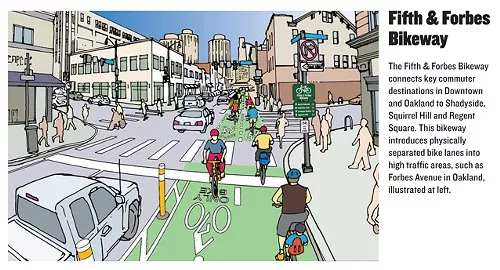 Courtesy of BikePGH
Oakland bikeway
And it's not just Oakland. The organization recently launched a "Better Bikeways Vision" that would include dedicated bikeways in the East End, Downtown, and a "River to River" route from Lawrenceville through Hazelwood.
BikePGH Executive Director Scott Bricker hopes the plan will inspire people to imagine what a bike-friendly transformation across the city could mean: attracting cyclists of all abilities and ages, increasing in the number of people commuting on their bikes and making Pittsburgh's biking infrastructure competitive with places like Portland and San Francisco.
"People tell us all the time they would never ride in traffic because they don't trust the bike infrastructure," Bricker says. "People want to feel safer and more comfortable riding their bikes."
Bricker hopes to draw local political support (he's already reached out to Democratic mayoral nominee Bill Peduto), but he says at this point the plan's purpose is mostly to start conversations about how to improve Pittsburgh's bike infrastructure.
"This is definitely not an engineering work order; it's just a vision."