A new mural has gone up in the Strip District, this one celebrating the jazz artists of Pittsburgh's past. The mural, on Art's Tavern, features Stanley Turrentine, Ray Brown, George Benson, Roy Eldridge, Erroll Garner, Art Blakey, and Lena Horne.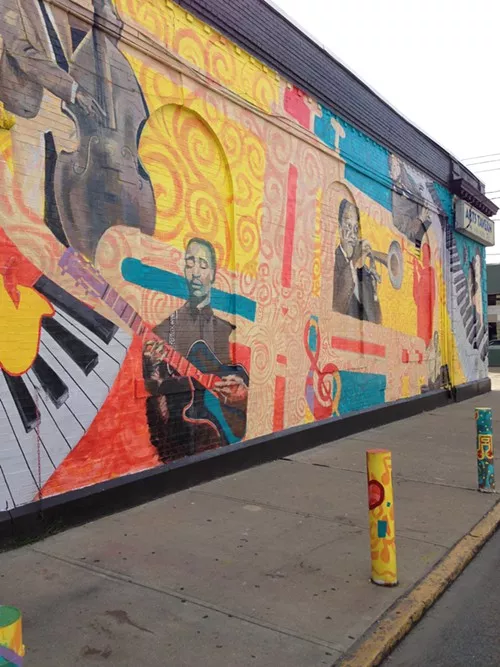 The mural was completed by youths working through the nonprofit group
Moving the Lives of Kids
in collaboration with community group
Neighbors in the Strip
. "Pittsburgh jazz artists have helped to shape the course of jazz history and we are delighted to honor that tradition with this new mural," said Becky Rodgers, executive director of NITS, in a statement.
The mural is highlighted by bright and exuberant colors covering the entire side of Art's, and adds more culture and color to a stretch of Penn Avenue that already features several murals.
Edward Rawson, chief operating officer of MLK, said that the owner of Art's Tavern also owns CJ's Jazz Club, and that this mural adds to the jazz club feel he has always dreamed of. "Pittsburgh has a great history with jazz music and we wanted something to both celebrate and memorialize what jazz has done for Pittsburgh, and what Pittsburgh has done for jazz."
Artists on the projected included local youths who were paid to participate as part of a summer-jobs program through the city-run Pittsburgh Summer Youth Employment Program.
About 25 people gathered yesterday to see the mural. Art's is located at 2852 Penn Ave.