On Saturday, Sept. 14, FarEsh Brand presented A Night On Mars. The showcase was hosted at 720 Music, Clothing, and Café, and featured an intimate performance by Pittsburgh hip-hop artist Mars Jackson. Having recently released his fourth mixtape, HypeChill, Jackson and FarEsh collaborated to create an experience similar to MTV's Unplugged series. DJ Bamboo set up on the hardwood floor near stage left as fans and local tastemakers filled the chairs that covered the rest of the open area. A stool and two microphone stands were on stage where Jackson would be spotlighted.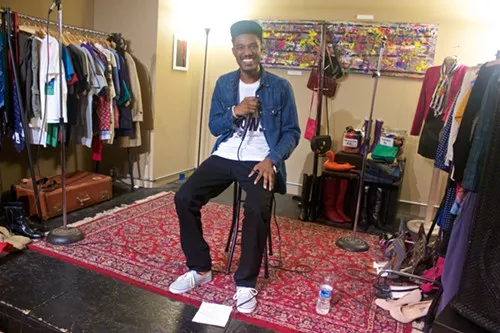 Photo by Jimmy Jam @JMYJAM
"The atmosphere was just right," says Jackson reflecting on the night's setting. "It felt like you were sitting at home just listening to me."
He adds: "I wanted everybody to get to know me, and to give them some background so they could understand what went into the songs, or the pivotal moments."
Beginning the performance, Jackson took the audience on a journey back to the first recording from his debut mixtape, B.A.M.D.I.C.T., which he recorded circa 2010-11. The song, "The Show," features Jackson rapping atop Kendrick Lamar's "P & P" instrumental. He explained that he recorded the song while freestyling in a closet as a student at Slippery Rock University.
The Hill District-born rapper continued with insightful explanations between songs. A shared moment of laughter came when Jackson confessed his love for R&B singer Sade before performing his latest single, "Stoop Thought," which samples her vocals.
Also joining Jackson on stage throughout the performance were past collaborators - Shad Ali for their song "Drift," KH for "Tru Fuggin Playa," Yury for "Stay Golden," and S. Boo for "We Heard That Shit."
"I just wanna do something different from the norm," says Jackson. "Next month we're gonna be in an art gallery. We're using the resources of the city."
All of Mars Jackson's mixtapes can be found on his Bandcamp page. Updates on concerts and additional info at MarsKnows.com