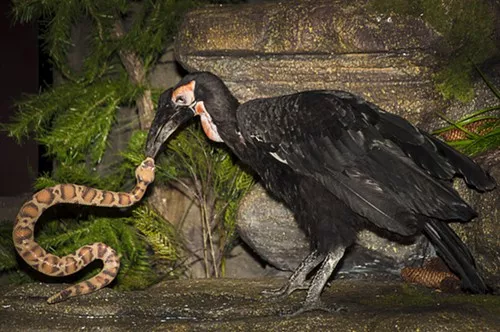 Chuck Beard Photography
A southern ground hornbill demonstrates its beak behavior (with a rubber snake)
Tomorrow is the premier of
Beaks!,
the new theater show at the
National Aviary
. Cathy Schlott, manager of animal training, describes the show as "edutainment."
The educational component demonstrates the varied functions of beaks in the wild. Through a series of demonstrations narrated by a trainer, the show highlights the "uniqueness of beaks as multifunctional tools," says Robin Weber, the Aviary's director of marketing.
The show starts when the lights dim in the Helen M. Schmidt FliteZone Theater. On the stage, trees, shrubbery and rock structures stand in front of a big screen.
After a brief video slideshow of bird glamor shots, two parrots fly in from either side of the screen, just barely clearing the heads of the audience, for a dramatic start.
For the parrot obstacle course race, the William Tell overture plays; the southern ground hornbill struts on stage to the crooning of Ella Fitzgerald.
The screen flashes with footage of the birds in the wild as they mirror the beak behavior on stage. Two flamingos use their filter mechanism to eat feed from a Tupperware container full of water. The southern ground hornbill knocks a rubber snake against a rock and a trumpeter hornbill uses its beak to catch a grape, midflight. The show also features several varieties of parrot, a hawk and a hamerkop.
Through Labor Day, the show runs daily at noon. Tickets are $4 (on top of the price of admission). Starting Sept. 3, the show costs $5 and runs twice daily, at 11 a.m. and 3 p.m. through Jan. 1. For more information, visit aviary.org.