The City of Play Festival is back, with a new line-up of what it bills as "the best new games in the world."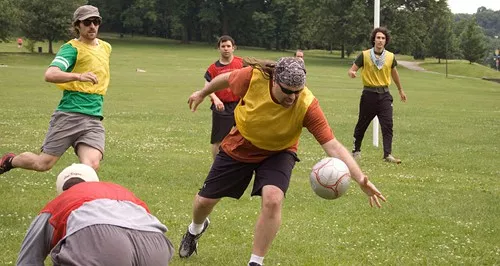 The festival, which includes games for people of all ages, runs all day out of Downtown's Arcade Comedy Theater (though you can stay as long or as briefly as you'd like).
It's run by the folks behind Obscure Games, and follows the first City of Play fest, held back in October.
Some games are twists on traditional ball games played on a field, while others are more conceptual, including some incorporating social media. All games are meant to provide new ways for participants to experience and understand their city.
Tickets are $25 (free for participants 17 and under) and gain you admission to as many games as you can fit in.
Some games are limited to players 18 and older, but many are open to kids and families. The Social Games portion of the day, 4-8 p.m. at Arcade, is free to all.
Games to be played on Saturday include:
— Flagstaff, a soccer-style game whose goal is a giant flagpole (ages 12 and up);
— Kill Him and You Will Be Famous, a street-game version of that scene from every kung-fu movie where the master battles 50 thugs (18 and up);
— Moving TarGets, a "survival game" with an increasing number of bowlers gunning for a decreasing number of moving targets (5 and up);
— Weenis Wars, in which players are outfitted with "Dangles" and their opponents have 15 seconds to grab as many as possible (5 and up);
— Zombie Ward, a zombie-apocalypse-themed game in which escape is predicated on finding a hidden key (18 and up); and
— Object Get, in which a significant object hidden somewhere in the city broadcasts its location via Twitter every three minutes, and you must find it.
For more examples, look here.
The festival has five parts.
Field games are played from 10 a.m.- 1 p.m.
Then comes the Play Your City Challenge (2-5 p.m.) — "a hackathon-style event in which designers, thinkers, hackers, and community leaders work together to create a piece of playful urban design within a finite timeline."
That's followed by social games (4-8 p.m.), street games (5-8 p.m.) and the Playtest Party (8-11 p.m.), in which brand-new games are tried out.
City of Play is still looking for volunteers. See here.