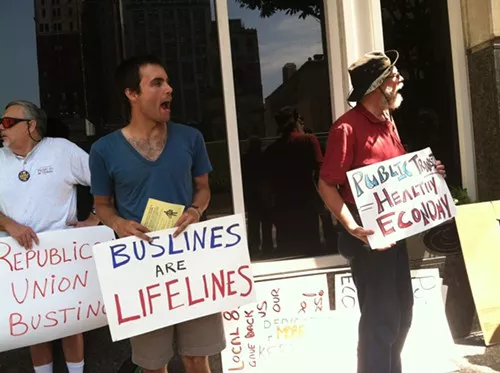 For years now, lawmakers, transportation advocates and community leaders have agreed on one thing: there needs to be a dedicated funding stream for transportation in Pennsylvania.
And this year, there actually seems to be legislative will to do something about paying for roads, bridges and mass transit. The Amalgamated Transit Union Local 85, the union representing Port Authority bus operators and mechanics, last year agreed to $60 million in concessions for their current contract, which appeased the state and helped avert massive cuts.
And a transportation funding package bill, Senate Bill 1, is before the House transportation committee. But it appears to have stalled, as Tom Fontaine at the Tribune-Review notes today.
As Fontaine reported, the scuttlebutt afoot is that Republican Dick Hess, chairman of the House Transportation Committee, was going to introduce amendments to Senate Bill 1, that would, among other things, "require Port Authority of Allegheny County and the Philadelphia-based SEPTA to seek bids from private companies to run at least 10 percent of the agencies' routes".
The Hess provision "would eviscerate funding to mass transit across Pennsylvania, which Democrats have consistently said must be part of any comprehensive transportation funding solution," Bill Patton, press secretary
for Democratic Leader Frank Dermody, tells City Paper. And the proposal "shows a special lack of regard for mass transit."
And there could be more to worry about locally if such an amendment were viable. Steve Palonis, president of Local 85, tells City Paper the union believes it could enact a clause of the collective bargaining agreement that would void the current deal if the state and county didn't come up with a dedicated source of funding. If the contract were void, ATU members would receive the benefits of the deal that expired in June 2012, including paying only 5.5% into the pension and new employees would receive lifetime health care. Right now, members pay 10.5% and lifetime healthcare was discontinued for new employees.
"Senate Bill 1, as its written — we can live with it," Palonis says. "Any other provisions, we're against."
Palonis says the ATU's estimate of a 10% privatization of Port Authority as proposed by the Hess amendment would result in a loss of 164 jobs.
"In that case we could go back to the language in the collective bargaining agreement," he says. "It's not a dedicated source of funding."
According to analysis of Hess' amendment — which is being circulated by the Democrats and hasn't been formally proposed — mass transit would receive less state assistance then what's currently proposed by SB1.
Patton says House Democrats won't support the bill. Currently, no meetings of the transportation committee are scheduled. A meeting scheduled for today was cancelled.
As the Post-Gazette's Jon Schmitz notes in this thoughtful piece, this should be easy, and the legislature is "just days away from botching an easy slam dunk — passing a transportation bill."
This afternoon, about 50 riders, union members and transit advocates, led by Pittsburghers for Public Transit, rallied in front of Gov. Tom Corbett's office demanding a funding stream and delivering a "Transit Bill of Rights."
"No one should lose their way of life because of political foolishness," shouted on demonstrator.
Stay tuned.