Thursday, Washington D.C.'s minimalist, punkish, folkish duo the Evens makes their first stop in Pittsburgh since 2006. Comprised of Ian MacKaye of Fugazi on guitar and Amy Farina of the Warmers on drums, they'll play the Union Project, a venue you may have visited for a yoga class or a wedding, but, quite possibly, never to see a band.
CP spoke with MacKaye about seeking out unusual venues, keeping the cops bored, and living in the moment.

Was there any particular reason you guys decided to start your tour in Pittsburgh? I know you haven't played here in awhile.
We haven't played anywhere in awhile. Basically, we had a kid about 5 years ago, and a slew of other things happened that took us off the road for a number of years. We finally started doing some weekend gigs, because our kid is in school. On weekends we can do a 3 hour maximum travel radius, but Pittsburgh, its 4 and a half, 4 hours away. But I love it, I've always loved Pittsburgh.
I heard that you were initially interested in playing the Mr. Roboto Project. Had you played there before?
No, I knew about it, I know about their work. Fugazi was too big to play there and when [the Evens] played [Pittsburgh], we played a coffee shop [The Quiet Storm] and we played CMU…The thing with the Evens is, we play wherever. We don't want to play clubs, and it has to be all ages. I think I've done my time in the rock club world, so I thought, let's find other places to play. To me, that's where punk kind of came from, working outside the system. I actually have a friend who lives in Polish Hill, and she looked into a couple spaces, but things weren't panning out. So I thought, we should call the Roboto people, because I think we share a mission on some level.
Do you ever have problems finding unusual venues?
Not really … One thing I think, culturally, is that people have swallowed the notion that you really need to have a bar at every [music] event. It's not about the moral or ethical issue of alcohol, it's just , the idea that there has to be a bar has really perverted the whole system in terms of the possibilities for music. Once you remove that from the equation, suddenly it opens up any number of rooms. And then if you say, well, we have our own PA and our own lights and we're not particularly loud, it opens up even more. It's a matter of creativity. We've played bike shops, we've played yoga studios, we've played libraries and multi-purpose rooms, we played a thrift store. They're great gigs, it's really enjoyable to bring music and put it anywhere. It should go anywhere. Why not?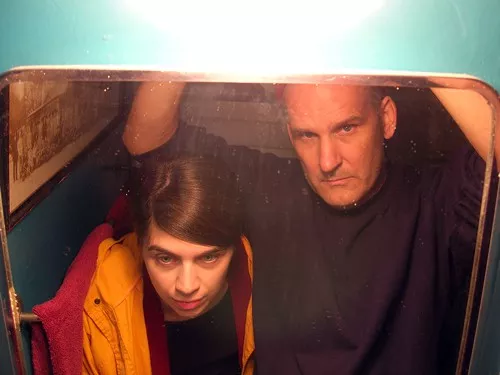 Speaking of the alcohol issue, something that was interesting about the old Roboto location was that it was in a dry town, so it was especially conducive to being alcohol- free.
After all this gigging, I think back about all the serious problems we've had, and I would say 95% of the time, alcohol was involved. And I just never was a drinker, so I just have nothing to do with it, except I have to contend with it all the time. All people need to think about — in terms of the sickness involved with the alcohol industry — is how many people couldn't see a band play because they weren't old enough to drink alcohol. How can that be? Music, for 15 and 16 year olds, is sacred. It's so important. And yet they can't see these bands because they're not old enough to drink. It's completely insane. And I'm speaking directly to the bands, really. They say, "well we can't really make any money"…the economy itself has been skewed to support that notion. But if bands said no, I can assure you that things would change. People want to see music. I think most all ages places I know —especially house shows — they get shut down inevitably because people want to drink. To me that's when you leave the thread out for the cops to pull. You can't have house shows and also have a keg in there, because inevitably there's going to be a drunk 15 year old. And the cops will shut you down. You know, you don't give them anything to pull on. You just keep them bored. But, you know, that's me.
People still talk about your 2004 show at the Quiet Storm, where you sort of scolded someone in the audience for filming.
I remember that exchange really well. What was happening in that moment was, we had no records out. We'd never played Pittsburgh. It was like, maybe we're terrible. I don't mind documentation, obviously. I'm in the midst of this enormous project of posting every Fugazi recording we have. I'm interested in trying to keep documentation out of the way of the moment. That particular night — I remember that guy really well — he was sitting right in the front and had a camera. I was like, come on, let's make a show together, let's make something worthwhile.
Imagine you're going to meet someone on a blind date, and you meet them at a coffee shop and the person sets up a video camera. That would be pretty weird. You just want there to be some sense [of] engagement before pictures are getting taken. I understand that I may have scolded the guy — i don't mean to be a scold. I was trying to engage people, because I don't think people were thinking about these things. I don't mean to say, 'everyone's a sheep and I'm not,' I don't think that at all. It's just so dominant in our culture that we don't think about [it]. I didn't mean to bum the guy out.
It's also worth noting, it was our first tour, probably one of the first shows we'd played out of town. I'd been playing for a long, long, time, but [with the Evens] I was playing something that was radically different from Fugazi, and I can be punchy. That's something that I'm certainly aware of. I don't mean to be quite so aggressive about it, I'm just thinking about things at a very heightened way. When I go on stage, I'm there to get free. So shit is poppin'off.

You're taking your son on tour. Is it sort of a family vacation?
I don't know, I don't really ever go on vacation. It's all one thing for me. Amy and I, this is our work, and it isn't lost on us that we haven't played regularly for so long. We never stop practicing, and finally we're slowly getting to a place where we can start traveling again. We really don't know what to expect. We're just trying to figure out how it will work. It's a new construct to travel with a child. With Fugazi we toured and toured and toured and it was a very natural evolution. We could figure things out as we went. But with the Evens it's a bit more interrupted by other things. And since we're not playing regular venues it's really hard to assess how many people want to see us. I don't give a damn if its 10 or 10,000, all I know is if it's 10, I want to play a room that holds 10 and not 10, 000. That's it. That's all that really matters to me.

Doors at 7 p.m., show at 8 p.m. 801 N Negley Ave., Highland Park. $6. Visit the facebook event page for details.