Well, it's here. The Supreme Court of the United States is expected to hand down rulings tomorrow on same-sex marriage in the Proposition 8 and the Defense of Marriage Act cases on the final day of the court's term. And there's a handful of local events tomorrow in which same-sex marriage supporters can join together for the rulings.
Riot or Rejoice will be a gathering from 9:30 a.m. to 11 a.m. on Liberty Avenue between 9th & 10th Streets in Downtown. A large outdoor television and speakers will be provided for to observe the rulings which will begin at 10 a.m.
This event is being produced by the Delta Foundation of Pittsburgh, Marriage Equality for Pennsylvania, Persad Center, Equality Pennsylvania, New Voices Pittsburgh, Shepherd Wellness Center, Steel City Stonewall Democrats, and Dreams of Hope. If your organization is interested in participating, email info@pittsburghpride.org.
Same-sex marriage supporters will also hold an interfaith prayer vigil tomorrow evening in light of the Court's rulings. The vigil will be held at 7 p.m., Wed., June 26, at Sixth Presbyterian Church, 1688 Murray Ave., Squirrel Hill.
To follow Supreme Court rulings in real-time, SCOTUSblog runs a fantastic live chat which starts at 9 a.m. tomorrow.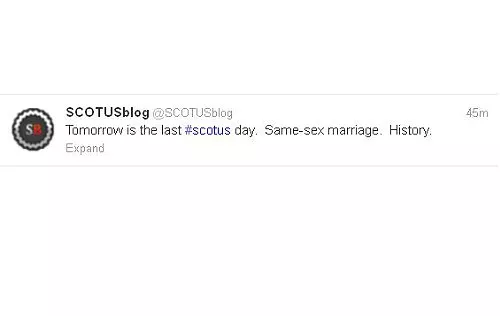 And if you missed it today, SCOTUS struck down key parts of the Voting Rights Act.