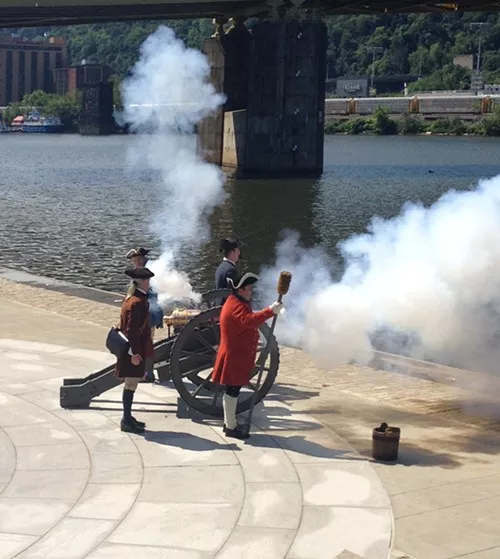 Yesterday morning, five men dressed in colonial military garb readied for firing the Fort Pitt Museum's latest acquisition: an authentic, locally made replica of an 18th-century cannon.
Historical re-enactors heeded the shouted commands of artillery captain Andrew Gaerte. It had been two decades since a cannon was fired on the site of old Fort Pitt.
The unloaded "British six-pounder" was aimed at Mount Washington. When loaded, this type of cannon could have fired a cannonball almost two miles. "We could hit the West End Bridge, easy," Gaerte said. After the multi-step preparation, he ordered, "Take aim … fire!"
Geese scattered from the river as the shot shook the city for a brief moment.
As the gunpowder settled and ears rang, Heinz History Center president and CEO Andy Masich explained the historical importance of cannons. They protected the Point, Pittsburgh's desirable confluence-front property, so commerce and culture could thrive in the city. A 1763 inventory counted 40 cannons at Fort Pitt. Yet the Fort Pitt Museum (which is run by the History Center) had been without an active replica cannon since the mid-nineties.
The Museum has been training volunteers to safely reenact the firing, using proper protocol.
Wednesday's demonstration was for the media, but additional firings await.
The cannon will be publicly fired for the first time on July 4 to kick off that day's Downtown fireworks. It will also fire on Aug. 9 and 10 for the opening of the Museum's Unconquered exhibit; on Sept. 14, to commemorate the 1778 Treaty of Pittsburgh and British Major Grant's defeat; on Oct. 26 for King George III Ascension Day; and on Nov. 23 for the 260th anniversary of George Washington's arrival in Pittsburgh.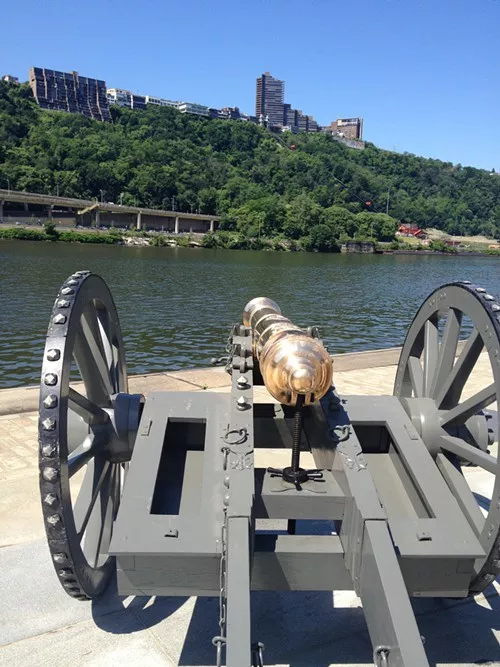 For more information visit
heinzhistorycenter.org