An aspiring novelist from Pittsburgh is one of five finalists in the annual Amazon Breakthrough Novel Award. The winner will be determined by online voting, which ends tomorrow, May 29.
Evelyn Pryce's romance novel A Man Above Reproach was selected from among thousands of entries from around the world. Voters can see excerpts of all five finalists at www.amazon.com/abna and vote for their favorite.
The winner receives a publishing contract from Amazon Publishing and a $50,000 advance. Though in a sense, Pryce has already won: Each remaining finalist also receives a publishing contract, along with a $15,000 advance.
Each finalist is in a different genre: general fiction, mystery/thriller, romance, science fiction/fantasy/horror or young-adult fiction.
A Man Above Reproach "is a Regency romance featuring a stoic duke who falls for a mysterious piano player at a brothel and then must navigate the choppy waters of class, identity and love."
Pryce is the pen name of Kristin Ross, of Port Vue, an administrative assistant at Chatham University who studies literature and history there part-time.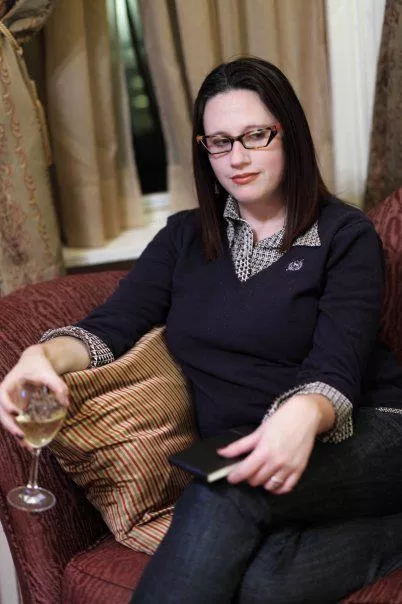 Photo courtesy of Mindi Harkless
Ross, 34, grew up in Glassport. After moving to Pittsburgh, she sang and wrote lyrics for rock bands Sing the Evens, Play the Odds and The Will Kill. She later wrote, with artist Mike Wood, several issues of the comic book Hate Your Friends, about life in a record store.
Ross says she's attempted writing literary fiction before, but her work is unpublished. She tells CP that she really found her groove in historical romance.
Still, given the popularity of romance novels, "I did not expect myself to be the winner" in that category, she says.
You can see other excerpts plus author photos here. Pryce is the only one posing with a glass of white wine, which you'd have to think bodes well.
Amazon is flying Pryce and the other finalists to Seattle for the June 15 awards, where the winner will be announced.