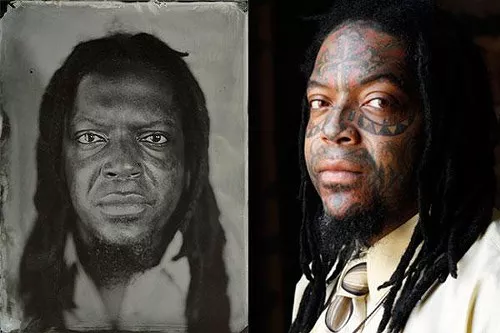 AJ Richardson with tattoos and without.

A funny thing happened last week during our cover shoot with Sheraden resident and mayoral candidate AJ Richardson — he lost his tattoos.
Our photographer Heather Mull shot this week's cover in the studio of fellow photographer Jason Snyder. Mull's photo appears on the cover and in the top, right picture. But Snyder used a photography process known as Wet Plate Collodion photography which creates an image known as a tintype.
We've all seen the giant antique cameras in movies where the 1800's-era photographer sticks his head under a cover and takes the picture. Well, that's the process that Snyder used in the above left photo of Richardson, knowing that the tattoos wouldn't show up in the print because, as Snyder says, "the UV light just bounces off of the outer layer of skin."

Richardson, who was a great sport for posing for this week's cover photo in the first place, tells CP he was amazed to see the photo and, since a lot has been made about his numerous facial tattoos, thought folks would be interested to see what a tat-less AJ Richardson looks like. We agree.
You can read more about Richardson's experience as a mayoral candidate here and check out Snyder's website here.