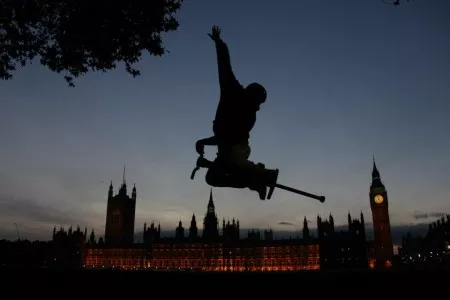 A group of extreme pogo-stick riders will be heading to Braddock to film for the next week.
The athletes are part of Xpogo Films, an independent film production company that has filmed the sport across the world, including London and Hong Kong.
According to a press release sent out today, Xpogo Films is working with Braddock Mayor John Fetterman and the Rivers of Steel Heritage Corporation for the one-week film period from May 4 to May 12, which includes a community day.
Per the press release, Xpogo LLC Chief Executive Officer Nick Ryan says he "could think of no better place in this stage of the sport's development to highlight how important imagination and resilience are in producing something that thrives. We employ those traits daily in pursuit of our goals and see them in abundance in Braddock."
They chose to film in Braddock, he says, to "capture the passion, innovation, and drive towards reinvention defined in Braddock and tie in the similar spirit put forth by each athlete as they aim to grow the sport."
Community Day will be held from 5 to 9 p.m., May 8, at 600 Braddock Ave. It will include exhibitions by athletes, pogo clinics with sticks and helmets provided, a pogo stick raffle, BBQ by Union Pig and Chicken, music and drink.
For more information on the sport of Xpogo, visit here.