A body in motion tends to stay in motion, at least when The Mike Dillon Band is supplying the dance music. For two one-and-a-half hour sets, the psychedelic rock group kept the audience at the Thunderbird Café shaking and gyrating with heavy, vibraphone-driven grooves on Friday night, delivering a steady stream of infectious rhythms and hypnotic percussion.
Upon kicking off the first set around 10 p.m., Mike Dillon invited harmonica master Wammo on stage, adding a fifth element of funk to the quartet's sound. The ensemble played off of each other's energy and musical intensity, making each song, especially "Fat Redneck Gangster" a well-blended collaboration. The ferocity Dillon applied to his array of percussion instruments fused with Wammo's command of the harmonica threw the majority of the crowd into fits of head-bobbing and hip-shaking.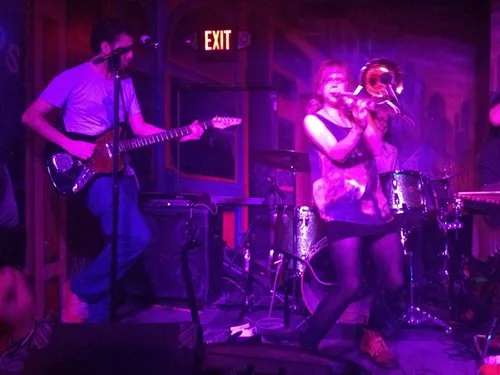 The untameable energy of trombonist Carly Meyers also enhanced the enthusiasm of the crowd, her twisting, contorting body movements matching the sharp motion of her instrument's slide. When she wasn't on stage bouncing and singing along with Dillon, she snaked through the audience, blowing a whistle and assailing a tambourine with a drumstick like a marching band drum major. Both Meyers and Dillon attempted crowdsurfing, with Dillon falling to the ground abruptly after throwing his shirtless, perspiring body onto the audience. He shrugged off the thunderous splat and assured everyone that as long as Iggy Pop still crowd-surfs, he shall crowd-surf.
Dillon varied his instruments throughout the evening, frequently using a cuica, or friction drum, to create a muffled washboard-like noise. The orange-red cylinder provoked coyote-like howls from the audience, inciting a devilish grin on Dillon's sweat-soaked face. The vibe and style of music varied as well, ranging from relaxed jazz rock to angsty punk rock. The band even crossed over into dubstep, with Dillon adding, "To make it ours, we gotta make it punk rock." The boisterous, thumping tune derived its inspiration from Meyer's disdain for the genre, as part of the chorus stated, "Carly hates the dubstep."
Other hits of the night included "Chef Boyardee, "Get Small Ya'll," "I Just Found 100 bucks on the Ground" and Garage a Trois' "Omar." The performance exemplified impressive vigor and jam band perfection, proving The Mike Dillon Band knows how to move a room.