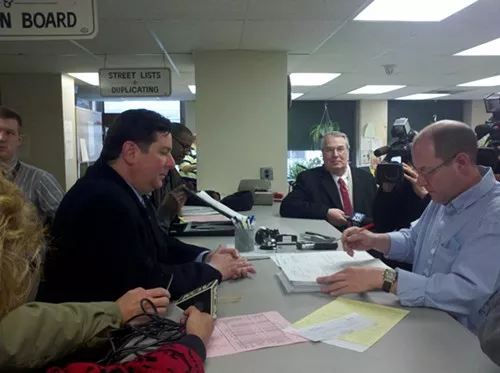 Bill Peduto filesnearly 2,700 signatures for Pittsburgh mayor's race
We no longer have to wonder who's definitely running for Pittsburgh mayor. Seven candidates filed to be the Democratic nominee for mayor along with one Republican, Josh Wander.
Speculation has run rampant since Mayor Luke Ravenstahl dropped out of the mayor's race last month. Both Pittsburgh City Councilor Bill Peduto and Pittsburgh City Controller Michael Lamb filed their petitions as expected — Peduto with nearly 2,700 signatures and Lamb with more than 1,300 petitions.
Also running for mayor are current state Sen. Jim Ferlo, also a former councilman, City Council President Darlene Harris, State Rep. Jake Wheatley, and former state Auditor General Jack Wagner. A final Democrat, A.J. Richardson, a bus monitor from Sheraden also filed petitions.
Mayoral candidate Jack Wagner high fives a baby before filing his election petitions Tuesday
One of the key issues of this race will have to do with more than just concerns facing the city and will likely play out in a courtroom. Under citywide campaign-finance regulations that apply, for the first time, to this year's mayoral campaign, candidates can receive only $2,000 from an individual donor for use in the primary, or $4,000 from any given political committee.
But Wagner told reporters at the elections office Tuesday that he had lawyers examining the situation and believed that he'd be able to use "a majority if not all" of $300,000 that he raised in a failed run for governor in 2010.
But Peduto one of the leading advocates of the city's campaign finance law, however, says he is "vehemently opposed" to Wagner or anyone else "using any other account being used for a mayor's race." Peduto has already challenged Lamb's attempt to use money from his county controller campaign war chest.
If the limits are violated by one candidate then fund-raising restrictions would be lifted from the other candidates. That's particularly crucial if Ravenstahl decides to put his weight and his nearly $1 million in campaign funds behind one of the candidates.
Peduto told reporters, "we will go after" money raised for another race that is used in the mayor's race.
More on this in the coming days, but below is a complete list of candidates for mayor and Pittsburgh City Councilor from the Allegheny County Elections Division:
CITY OF PITTSBURGH MAYOR

Republican Josh Wander
Democratic Jim Ferlo
Democratic Michael E. Lamb
Democratic Darlene M. Harris
Democratic Jake Wheatley
Democratic A.J. Richardson
Democratic Jack Wagner
Democratic William Peduto

CITY OF PITTSBURGH COUNCIL
DISTRICT 2

Democratic Theresa Smith

CITY OF PITTSBURGH COUNCIL
DISTRICT 4
Republican Samuel J. Hurst

Democratic Christopher M. Cicchitto
Democratic Johnny Lee

Democratic Natalia Rudiak

CITY OF PITTSBURGH COUNCIL
DISTRICT 6

Democratic Tonya D. Payne
Democratic Robert Daniel Lavelle
Democratic Franco "Dok" Harris

CITY OF PITTSBURGH COUNCIL
DISTRICT 8
Republican Mordecai D. Treblow
Democratic Sam Hens-Greco
Democratic Jeanne K. Clark
Democratic Dan Gilman