Employment in the City of Pittsburgh is up. Crime rates are down. And Mayor Luke Ravenstahl wants you to know: It's no coincidence that it happened on his watch.
Local employment is "more than at the height of the steel industry," Ravenstahl told a crowd of about 200 at his campaign kickoff at his strip District campaign headquarters Tuesday night. "We've created a climate for growth.
"This stuff doesn't happen by accident."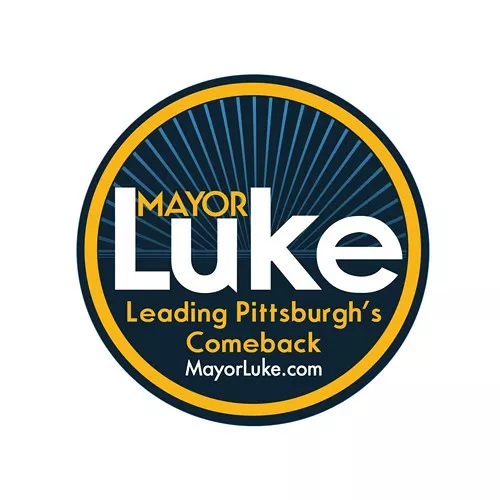 Ravenstahl went on to tout a crime rate that he says is 25 percent lower today than it was when he took office, and said he was proud of neighborhood investment in "all corners of this city."
"You hear about Bakery Square and you hear about Lawrenceville and you hear about the Strip District and of course those are wonderful," Ravenstahl told the crowd. But I'm just as excited, if not more excited, about projects like the one we started in Homewood [where ground was recently broken on a senior-housing facility] a few weeks ago.
"This is a neighborhood that for over 20 years didn't see the city committed to it ... We broke ground on a multimillion-dollar development in that community when other people said, 'You couldn't do it; it's not even worth trying.' Not only did we not listen to that, we are getting it done."
City Councilor Rev. Ricky Burgess — who represents Homewood and identifies himself as a "100 percent supporter of the mayor" — echoed those sentiments, telling City Paper before the mayor's speech that Ravenstahl has done more for low- and middle-income residents than "any mayor in the past 40 years."
Ravenstahl's brief speech brought applause from the crowd. The mayor introduced the team who would be leading his re-election campaign, including his campaign manager Aletheia Henry who previously worked on both of President Barack Obama's successful campaigns. Henry said when she finished working for Obama, there was nothing she wanted to do more than "come back to Pittsburgh and work for Mayor Luke."
Ravenstahl is being challenged by both City Councilor Bill Peduto and City Controller Michael Lamb. Henry said that the mayor's campaign would focus on the issues and Ravenstahl's record of service and "let the other side do what they're going to do" when it comes to making personal attacks.
The memo must not have reached Ravenstahl though, who — while talking about his record of not raising taxes while mayor — couldn't stop from taking a jab at Allegheny County Executive Rich Fitzgerald, who has been a high-profile supporter of Peduto.
"We need to keep who we have here. How do you do that? By not raising taxes, and we haven't raised taxes for the seven straight years," Ravenstahl began. "One of my opponents' biggest supporters before he took office ... said he wasn't going to raise taxes, and he did it before he even went into office." (That's a reference to a 1-mill property-tax increase that county council passed after Fitzgerald's election in November 2011 — but shortly before he took office. Fitzgerald backed the increase.)
"So if that's who somebody wants to associate themselves with, go ahead," Ravenstahl said.