This Thursday, February 21st at 5PM, Macy's in Downtown Pittsburgh will be celebrating Black History Month with an event honoring the life of revolutionary photographer and film director Gordon Parks.
Join us in "In Conversation" as Pittsburgh-area veteran writer/producer Joseph Lewis emcees a spirited discussion on Gordon Parks' influence on film and the future of African-American cinema with actor Terrell Tilford, actress Malinda Williams and Emmy-winning producer Emmai Alaquiva.
Goers will see some of Parks' most iconic photos on display, including Grease Plant Worker, Pittsburgh, Pennsylvania, 1944: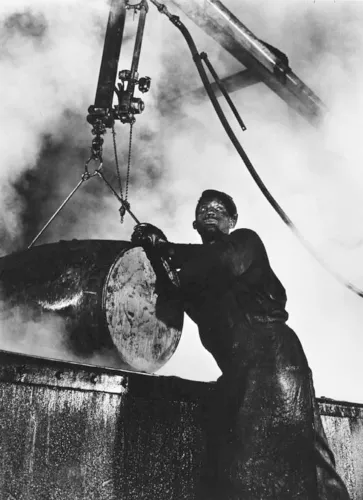 Parks gained recognition for his photographic work throughout the '40s, '50s, and '60s that showed crime, fashion, labor, and poverty. The pioneering visual artist has photographed celebrities like Muhammad Ali and Marilyn Monroe, as well as civil rights leaders Malcolm X and Eldridge Cleaver. Parks was the first African-American to work for the highly-respected LIFE magazine.
In addition to his work as photographer, Parks became Hollywood's first major African-American film director with an adaptation of his autobiographical novel, The Learning Tree, in 1969. A few years later in 1971, Parks hit it big as director of Shaft, which starred Richard Roundtree and is considered to be a classic blaxploitation film.
A multi-talented artist, Parks also composed music and at times performed as a jazz pianist. Most notably, he composed and choreographed Martin in 1989, which was a ballet dedicated to Martin Luther King, Jr.
Following the discussion, enjoy light refreshments courtesy of Savoy Restaurant. Plus, with any $50 or more purchase made during the event, receive a commemorative Gordon Parks journal while supplies last. To RSVP, please call 1.888.622.9769.
DJ Nate Da Phat will be spinning for Macy's Soul Jam dance party that is set to take place after the panel discussion and pay homage to '70s era soul/funk music. The entire event will take place on the Main Floor of Macy's in Downtown Pittsburgh.